Bolsonaro says Brazil's role acknowledged by world leaders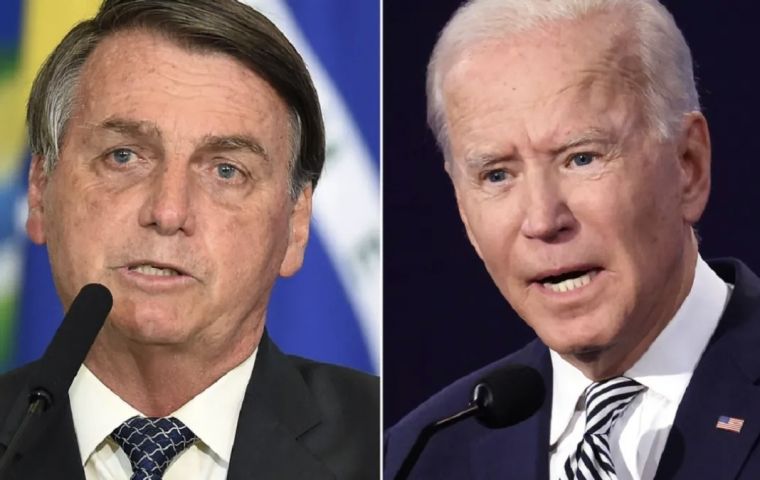 Brazil's President Jair Bolsonaro highlighted his country's importance worldwide following the announcement of a one-on-one meeting with his US colleague Joseph Biden at the upcoming Summit of the Americas in Los Angeles, in addition to his encounter in February with Russian leader Vladimir Putin in Moscow.
Biden's envoy Christopher Dodd visited Brasilia earlier this week to formalize the invitation to the meeting which the Brazilian head of state hopes will help further develop bilateral trade. Biden and Bolsonaro have not seen each other eye to eye since the South American backed the reelection of former President Donald Trump in 2020.
The two presidents were present at the G20 Summit in Rome but Biden ignored the former Army captain who will seek his reelection Oct. 2.
"A few weeks ago I was in Russia negotiating with President [Vladimir] Putin the delivery of fertilizers for our agribusiness," Bolsonaro recalled during a speech Thursday evening in Minas Gerais.
The far-right leader also explained his meeting with Putin had occurred a week before the beginning of the war with Ukraine, before which he has declared himself "neutral".
Bolsonaro insisted his country was affected by "a war that occurs 10 thousand kilometers from here and interferes in the economy of the whole world."
In a separate event Friday, Bolsonaro asked hundreds of evangelical bishops to use "their word" to warn about the "values" that will be at stake at the polls. "You are important, politics is part of our life and millions of people listen to your word," Bolsonaro said at a convention of the Assemblies of God of Madureira Ministry, a grouping of evangelical churches.
Despite the support of pious voters, Bolsonaro trailed former President Luiz Inácio Lula Da Silva 27% to 48% in a Datafolha poll released this week. The incumbent president has lost ground among evangelists, of whom 39% will vote for him while 36% would still prefer Lula.
"Those people who now present themselves as a solution do not respect the family, they want to sexualize children, they say they will put the military and pastors in their rightful places, they say that abortion is like the extraction of a tooth and they want to silence us on social networks," Bolsonaro stressed.
"I always expect from God courage, wisdom, and strength," he added.
"Look at what is happening in Argentina, in Chile, in Venezuela. We have many examples," he noted about countries who "suffer" the consequences of voting for the "wrong" candidate.