Mexico facing water shortages despite approaching heavy storms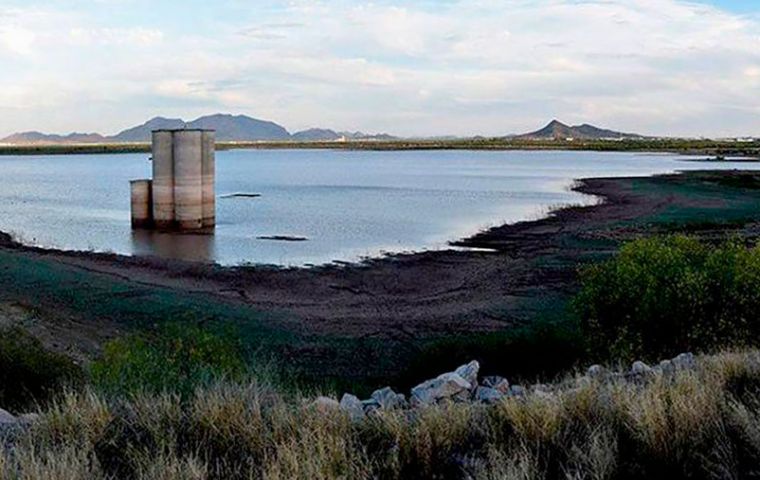 Mexico's National Water Commission (Conagua) has been reported to be drafting a new emergency declaration after several of the country's basins are affected by severe droughts in at least one-third of the country.
Despite the current rainy season and heavy meteorological events such as Hurricane Agatha, the outlook for rainfall in the country is not very encouraging, authorities have explained.
The National Commission for Regulatory Improvement (Conamer) issued an agreement that establishes the beginning of an "emergency" in several regions of the country due to "severe to exceptional drought", in view of which it called for the adoption of some "mitigation measures," including the "temporary limitation" of "existing water rights," which entails reducing volumes to users of affected basins in order to supply water for domestic and urban public use.
The areas hardest hit by the drought could lose their crops and pastures, particularly Nuevo León, Tamaulipas, Coahuila, and Chihuahua, on the border with the United States.
Water supplying companies could suffer, without prior notice, a limitation of their exploitation rights and temporarily hand over their privileges to Conagua to "guarantee the supply of water for domestic and urban public use" albeit on a temporary basis.
According to Mexico's Drought Monitor, as of May 15, 56.9% of the Mexican territory registered some level of drought and 33.6% of it ranged from "severe to exceptional."
In the first half of May, an anticyclonic system favored "high temperatures and clear skies in several regions of the country, so that precipitation deficits prevailed in most of the national territory, mainly along the Gulf of Mexico, in the South Pacific region, and in the Yucatan Peninsula," the Monitor said.
"These conditions caused the increase of moderate drought in Veracruz and Oaxaca (southeast), as well as the increase of severe drought in Nuevo Leon, Tamaulipas, Sonora, Chihuahua, and Sinaloa (north of the country) and the emergence of extreme drought in Baja California and Sonora," also on the borders with the United States.
At least 940 municipalities registered some sort of drought, but 50 suffered this problem in an "extreme" way and 9 in an "exceptional" way.
(Source: ANSA)