Biden falls during bicycle ride at home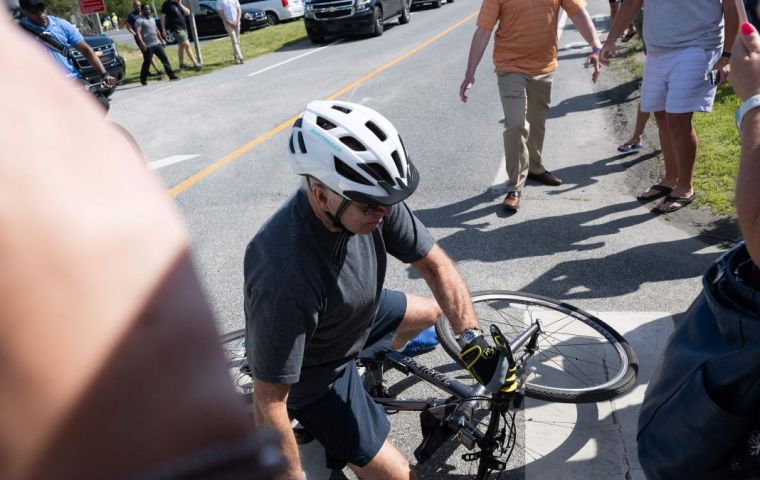 US President Joseph Biden, aged 79, fell off his bicycle Saturday during a ride near his home in Rehoboth Beach, Delaware. He quickly got up and said: "I'm good."
Biden then explained he had trouble getting his feet off the pedals while trying to stop the bike. He and First Lady Jill Biden were celebrating their 45th wedding anniversary.
The episode reminded viewers of the opening for the pilot episode of "The West Wing," in which fictitious President Jed Bartlet, portrayed by Martin Sheen, rode into a cypress tree off-camera. Biden was unharmed; Bartlet sprained his ankle in the 1999 series.
President Biden decided to stop for people waiting to greet him at Cape Henlopen State Park when he fell. He claimed his foot got stuck on the pedal as he tried to dismount.
"As the President said, his foot got caught on the pedal while dismounting and he is fine. No medical attention is needed. The President looks forward to spending the rest of the day with his family," the White House said in a statement.
Meanwhile, former President Donald Trump said he hoped his political rival was okay. "I hope he has recovered because, as you know, he fell off his bicycle today," Trump said in Memphis, Tennessee. "No, I'm serious. I hope he's okay. He fell off a bicycle," Trump said after the crowd responded with laughter. "I make this pledge to you today: I will never ever ride a bicycle."
Trump also mocked Biden's fall when he shared a fake video on his Truth Social account that showed him hitting Biden in the head with a golf ball and causing him to fall off his bike. But he quickly turned the page and fired all his ammunition against Biden's foreign policy, particularly his approach toward Russian President Vladimir Putin and the US withdrawal from Afghanistan last year.