Brazilian First Lady likens Lula to cancer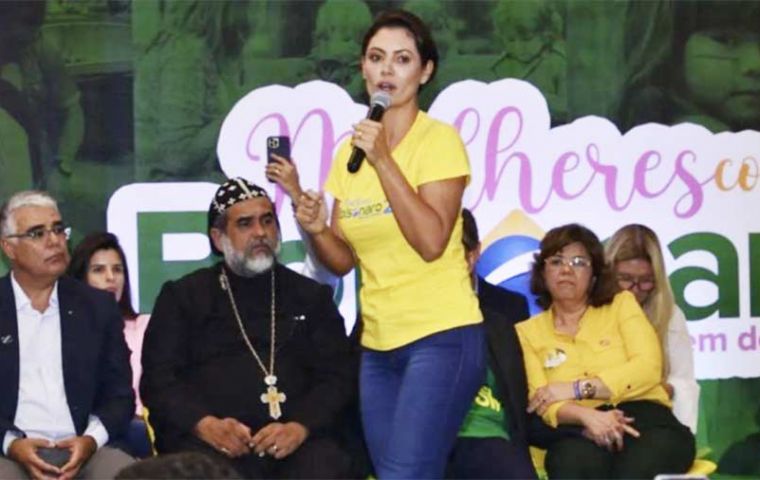 Brazilian First Lady Michelle Bolsonaro described former President Luiz Iácio Lula Da Silva as the country's "cancer" that needs to be beaten in the Oct. 30 runoffs.
Incumbent President Jair Bolsonaro's wife said during an appearance before a group of evangelical followers in São Paulo that "we are here to fight against this cancer of the party of darkness so that it dissipates from our nation."
Her statements came after President Bolsonaro had to apologize for calling Venezuelan teenagers prostitutes and denying being a pedophile. Her participation in the event organized by Paulista ultra-right-wing congresswoman Carla Zambelli was a part of her spiritual war between good and evil."
In Michelle Bolsonaro's view, Lula "intends to steal again and has a list to imprison his opponents."
"He is going to put us all in jail because he made a list to take revenge," she added before quoting the Bible to say that God always chose the side of the right over the left.
As she spoke, Bolsonaristas in the northern São Paulo neighborhood of Santana, handed out flyers saying Lula "defends abortion, the liberation of drugs and censorship." Bolsonaro's allies have demonized Lula and his Workers' Party, prompting the former president to issue an off-the-cuff statement in which he denied ever having had contact with the devil.
Lula has been reported to have lost support among evangelicals after his closeness to leftwing undemocratic rulers such as Nicaragua's Daniel Ortega -who has persecuted and arrested several Catholic priests-, Cuba's Miguel Díaz-Canel, and Venezuela's Nicolás Maduro was repeatedly underlined.
After keeping a low profile throughout her husband's presidency, the first lady emerged during the campaign as the voice of evangelicals within Bolsonaro's team.
Meanwhile, Lula sent an open letter to the evangelical community saying he was personally against abortion while denouncing the use of faith for political gain.