Gloomy picture of UK economy: Sterling KO, retail sales down and government borrowing increasing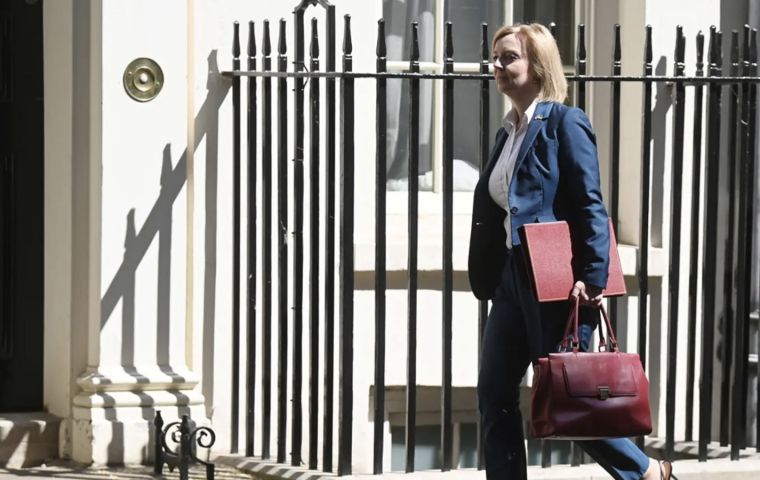 Pound sterling trading ended on Friday at US$ 1.12, after rallying on Thursday following the announcement of Prime Minister Liz Truss Thursday resignation. However new figures showed a gloomy picture of the UK economy.
The volatility in the pound came after official figures showed government borrowing rose to its second highest September on record. Meanwhile people are shopping less than they did before the pandemic according to figures from the Office For National Statistics (ONS).
Retail sales fell by more than expected last month, dropping 1.4% and continuing their slide from August, the official figures showed.
The pound's latest slide comes after a period of volatile trading for the currency. Government borrowing costs also rose on Friday.
A fall in the US dollar against a number of currencies late Friday helped the pound regain some ground.
Jane Foley, a currency strategist at Rabobank, said much of the pound's moves are being driven by investors reacting to political and economic uncertainty in the UK as well as the negative economic data.
"While sterling rallied yesterday on Truss's resignation, I think investors have realized today that it's not a guarantee that we'll get a market-friendly outcome from the Conservative leadership contest," she said.
The Chancellor, Jeremy Hunt is due to announce plans for spending and tax on 31 October in his economic plan, which the Treasury confirmed was set to go ahead, although there are reports it could be delayed due to the leadership race.
Ms Foley said this uncertainty was also weighing on the pound.
A fall in the value of the pound increases the price of goods and services imported into the UK from overseas - because when the pound is weak against the dollar or euro, for example, it costs more for companies in the UK to buy things such as food, raw materials or parts from abroad.
A weaker pound can push rising costs higher as well if companies choose to pass on higher prices to customers. For people planning a trip overseas, changes in the pound affect how far their money will go abroad.
Likewise inflation surged to 10,1% last month and is expected to climb further. The economic statistics office, ONS, said all types of shops saw sales drop with food stores particularly hard hit.
The UK is borrowing billions of pounds to limit energy bill rises for households and businesses.
Borrowing - the difference between spending and tax income - was £20bn last month, up £2.2bn from a year earlier, the Office for National Statistics (ONS) said.
It is the second highest September borrowing since monthly records began in 1993, the ONS said.
But economists warned that government borrowing is set to rise further in the coming months.
The Office For Budget Responsibility (OBR) makes independent forecasts on what impact government decisions on things like tax and spending will have on borrowing and growth.