Uruguay's advantages for technology development "to attract talent," Lacalle said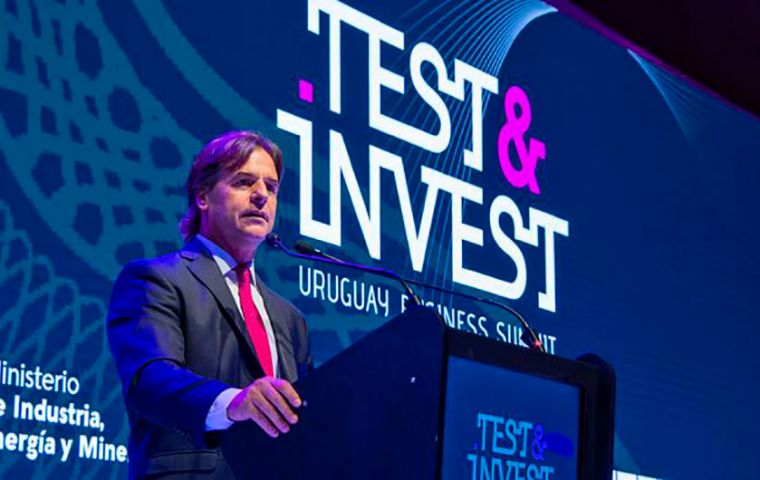 Uruguay's President Luis Lacalle Pou Thursday underscored during an Inter-American Development Bank (IDB) event in Punta del Este his country's advantages for investments to keep flowing in.
In his speech marking the beginning of the convention, Lacalle outlined Uruguay's strengths as an attractive country for investments, in addition to its commitment toward sustainable policies.
"Since 1990 our country has been exporting technology and to date, between software and services, exports are around US$ 1 billion. In all this path there is a journey and an effort that is anchored in some elements that we want to share: the first and most important is the national talent," said the President.
Lacalle also highlighted the country's "significant growth" in infrastructure.
He then underlined Uruguay's "stability and the strength of the institutions; the old but increasingly effective separation of powers" in a country "fertile for these global undertakings."
Globalization is "the most important trigger for us to be here today and for Uruguay to become a leading country in this sense," Lacalle also pointed out.
"The world became smaller with globalization, the pandemic accelerated this globalization, and Uruguay, with its responsible freedom, became attractive for many people to come and invest, stay and work," he added while admitting there was a "labor shortage" due to which he was working with his aides toward developing a legal tool "to attract talent, either Uruguayans living abroad or international talent that will come to live in our country and work."
Lacalle also told attendees at the Test & Invest Uruguay Business Summit forum that the country was making progress in technology, logistics, agriculture, and cybersecurity, and it must now move towards "the next frontier:" the internet and biotechnology. "Our country's vocation is to become a hub at the Latin American level, no longer in the Southern Cone", he stressed.
The forum ending Friday will feature presentations by international experts in information and communication technologies, biotechnology, renewable energies, and audiovisual services. Around 1,400 participants, including some 500 from abroad are expected to attend.