Commercial flights resumed between Caracas and Bogota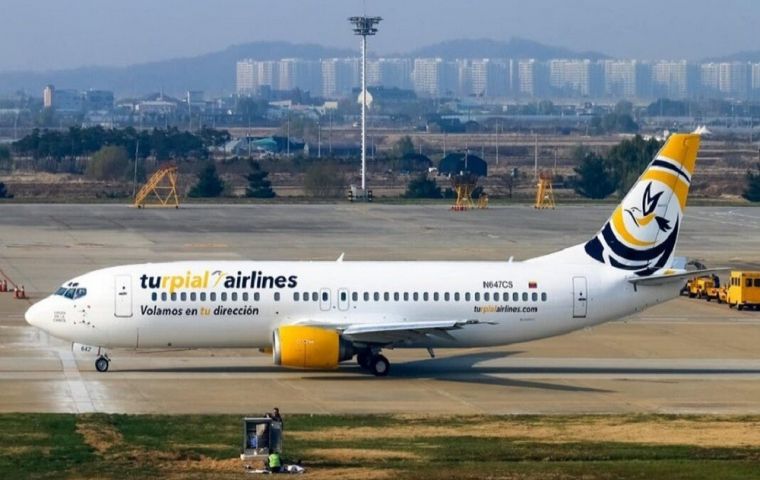 A Turpial Boeing 737-400 from Caracas landed in Bogota's Eldorado International airport late Monday, thus marking the resumption of air connectivity between Venezuela and Colombia following the return to full diplomatic ties.
The aircraft from Maiquetia International Airport in Caracas was the first commercial flight between the two nations since the March 2020 health crisis.
Venezuelan Ambassador to Colombia Felix Plasencia highlighted that the event symbolized the union between both peoples. "We are rescuing the air connectivity between Venezuela and Colombia (...) from this moment on, growth and more scope of a relationship, cooperation, friendship and good harmony between two neighboring countries, between two sensitive governments and between the same people," he said.
Plasencia added that the resumption of flights between Colombia and Venezuela would also benefit air travel all across South America and Central America, and will result in air connections multiplied.
Colombian Transport Minister Guillermo Reyes joined the celebration and announced a Satena (Colombia's state-run carrier) flight will depart from Eldorado to Maiquetía Wednesday with 45 passengers onboard.
Turpial will serve Bogotá from Caracas Mondays and Saturdays. Other flights will be added as reservations increase, CEO Pedro Cestari explained.
Venezuelan Transport Minister Ramón Velásquez Araguayán said that as instructed by President Nicolás Maduro, "commercial air transport operations with the Republic of Colombia began, we are happy to connect with this brother country." He added that the flight represented one more step "in the path of brotherhood and peace of our Liberator Simón Bolívar."
Colombia's ambassador in Venezuela Armando Benedetti also confirmed the Satena flight.
(Source: Xinhua)