Uruguay: former presidential bodyguard allegedly spied on opposition senators; Justice investigates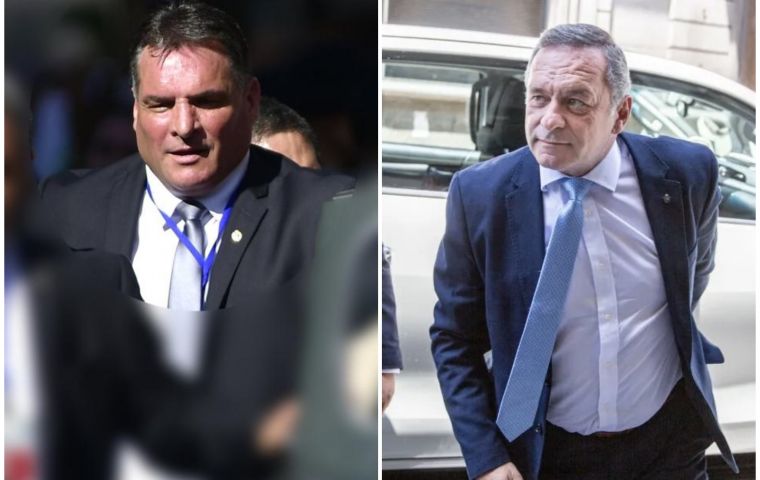 The analysis of hundreds of WhatsApp chats recovered from the cell phone of Alejandro Astesiano, the former personal custodian of Uruguayan President Luis Lacalle Pou, continues to provide investigators with crucial material in an unprecedented court case in Uruguay's political history.
As reported by La Diaria, one of the conversations records the exchange between Astesiano and a retired Uruguayan military man, who speaks under the fictitious name of Andrés.
This Uruguayan is the executive director of the firm Vertical Skies, which presents itself on its website as a "global consulting firm" with operations in more than 50 countries.
Among its clients are firms and organizations such as Microsoft, the United Nations, the US Army, Interpol, the European Union, the Organization of American States (OAS), governments, and "more than 1,000 private sector clients".
In the chat, "Andrés" asks Astesiano to prepare files with personal information on opposition senators Mario Bergara and Charles Carrera.
"The info I need from them is all personal, since they want to tie them up so that they withdraw the complaint", says one of the messages. The communication dates from March 2021, when the Frente Amplio (Broad Front), the party to which both legislators belong, denounced the terms of the contract between the Government and the Belgian company Katoen Nate, concessionaire of the Cuenca del Plata container terminal, which operates the Port of Montevideo. The agreement between the Uruguayan State and the private company granted the latter the operation of the port for 80 years, a contract that raised alerts in the opposition.
"It is not serious, it is very serious", affirms the government
President Lacalle Pou's secretary, Álvaro Delgado, referred on Tuesday to the chats that the former custodian of the president, Alejandro Astesiano, had with the retired military officer.
After testifying in the Prosecutor's Office as a witness for the same judicial case, Delgado said in a press conference that "the Government is having a bad time" due to this case.
"If what these chats that appeared in the press were confirmed, it would be wrong to use eventual influences that it would have. The full weight of the law must be brought to bear," said Delgado, in relation to Astesiano.