Lacalle Pou, Mujica and Sanguinetti attend Lula's inauguration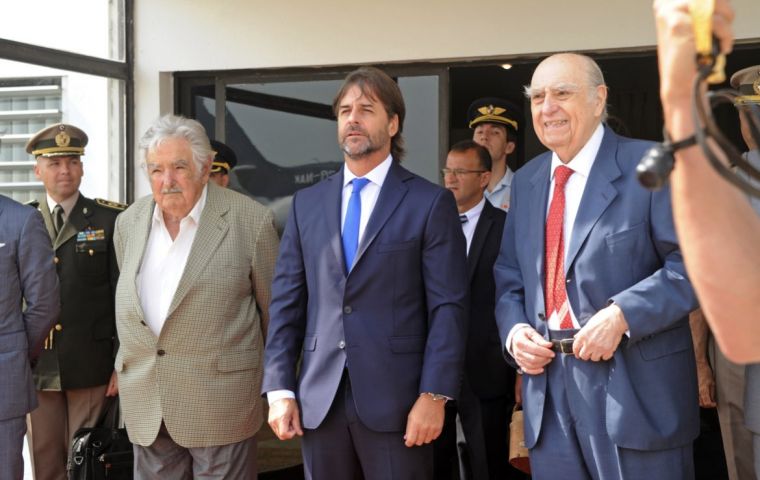 Uruguayan President Luis Lacalle Pou's delegation to Luiz Inácio Lula da Silva's third inauguration featured his predecessors Julio María Sanguinetti and José Mujica, in an unprecedented diplomatic move to show that foreign policies transcend political parties.
Mujica had admitted that this trip was "convenient for the country" since Brazil was one of Uruguay's main trading partners and recalled that during the inauguration of Argentine President Alberto Fernández, former President Tabaré Vázquez had extended a similar invitation to then-President-elect Lacalle Pou. Mujica insisted that this diplomatic gesture was one of the small luxuries Uruguay could afford.
Lacalle Pou, Mujica, Sanguinetti, and Foreign Minister Francisco Bustillo took off from Montevideo in a Dassault Falcon 7x aircraft owned by Brazilian real estate investor Alexander Grendene, a friend of the Uruguayan head of state, who had at first planned to bring along his Paraguayan colleague Mario Abdo Benítez, who was vacationing in Punta del Este.
Lula's inauguration began at around 1.45 pm, when Lula and Gerardo Alckmin arrived at the National Congress in Brasilia, amidst a security operation involving some 12,000 officers.
After all the formalities were concluded, Lula and Alckmin went over to the Planalto Palace, where 65 artists performed on the Esplanade of the Ministries.
In Uruguay, Canelones Mayor Yamandú Orsi wrote that "the image of the representation of Uruguay, with President Lacalle Pou accompanied by Sanguinetti and Mujica fills me with pride. And to see Lula enter the seat of government together with representatives of his diverse people makes my heart ache. Thank you 2023, you got off to a good start."
"Long live democratic and republican Uruguay!!!!! Shining in Brasilia," wrote Uruguay's Ambassador to Brazil, Guillermo Valles:
"The invitation of @LuisLacallePou to former presidents to the inauguration of President Lula does not avoid future debates, nor does it seek to do so, but it is a very strong sign of political and institutional stability," Defense Minister Javier García stressed.