US favors supplying Argentina with vintage F16s to counter Chinese influence and despite UK's objection
Monday, January 2nd 2023 - 23:59 UTC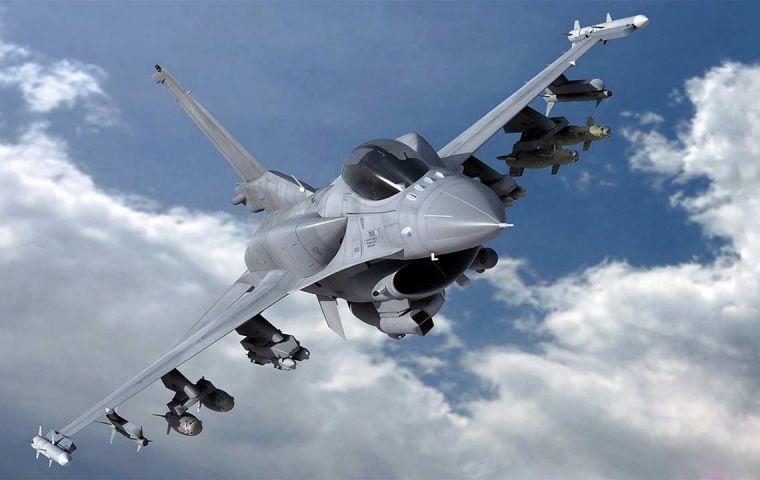 A leading US Navy think tank feels it is imperative for the US to pay close attention to the South Atlantic given China's growing trade, financial, investment influence in countries such as Argentina, and suggests a joint security cooperation investment with the UK, but especially overcoming an "outdated United Kingdom post-Falklands War security policy"
The Falklands War left a legacy beyond mere study of strategy, tactics, and long-distance logistics. Since 1982, the UK has substantially garrisoned the Falklands and placed an arms embargo on Argentina, which froze its military in the 1970s. This policy may have been appropriate during the Cold War, when a recessionary UK was forced to rely on the United States and the North Atlantic Treaty Organization (NATO) to defend its South Atlantic territories, but it is now limiting present-day military capabilities in the region.
Argentina had a formidable military during the late 1970s, but the Falklands defeat led to massive underinvestment and a decrease in defense capabilities. Nevertheless UK continues to resist Argentine military modernization attempts. Hostility reached its peak in 2019 with the veto of Argentina's purchase of FA-50 jets from South Korea because these aircraft have UK-manufactured Martin Baker ejection seats. Likewise with the Argentine navy and replacement of Super Etendards from France but similarly equipped.
Read also: UK bars sale of South Korean fighter jets for the Argentine air force
The UK's resistance to Argentine military modernization and advancement pushed Argentina into the hands of China. Argentina engaged with China in 2021 to evaluate Sino-Pakistani JF-17 fighters. .
But with U.S. help and UK cooperation, there is hope for Argentina. US offered surplus Danish F16/A/Bs to Colombia and Argentina in 2020 and is negotiating with the UK to approve the sale. Selling 1980s vintage F-16 A/Bs with modest modernization will strengthen Argentina's military capabilities. Oversight of this venture is jointly shared by the State Department, U.S. Southern Command, the Defense Security Cooperation Agency, and the Secretary of the Air Force/International Affairs. The U.S. relationship with Argentina can ensure a measure of renewed prominence and a future generation of well-trained Argentine military aviators.
Argentina is one of many pieces to China's plan for South America. China intends to develop a military base in Bata, Equatorial Guinea. Bata shares the same advantages Ascension did for the UK during the Falklands War. Closer Sino-Argentine cooperation will allow the People's Liberation Army Navy (PLAN) to impose higher defense costs on the UK to defend the Falklands, potentially drawing its nascent carrier strike and submarine force away from supporting U.S., NATO, and Indo-Pacific operations. Hence, the United States should convince the UK that it is time to reconsider its arms embargo with Argentina. A minor investment in a perceived tertiary theater can go a long way in closing the goalmouth to China, concludes the US Naval Institute report.