Not bananas: shrimp now Ecuador's second-most-exported product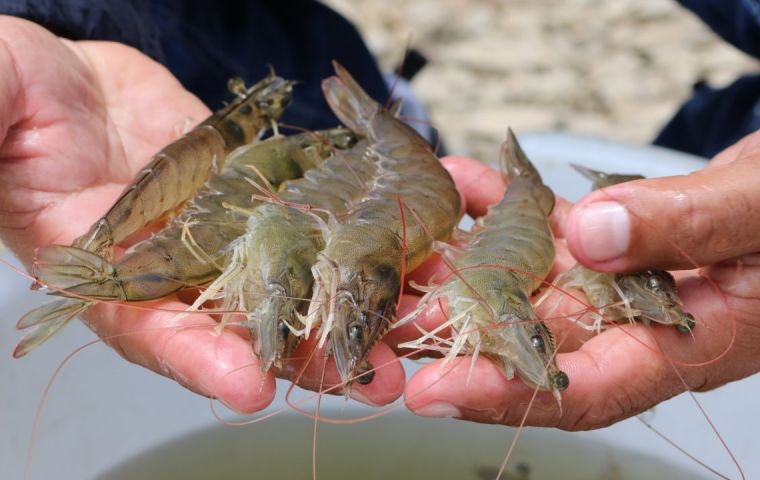 After a steady growth since 2018, shrimp has taken over as Ecuador's second-most exported item behind oil, thus toppling bananas from a notch they had held for quite a while, it was reported in Quito.
According to Ecuador's Central Bank data from January to October 2022, shrimp exports exceeded US$ 6.2 billion while bananas reached US$ 2.7 billion.
Shrimp consolidated in 2022 as the non-oil export product to generate the largest revenues for Ecuador, as production grew in line with volumes exported and the sale price, according to official data for the last five years. In 2018, annual shrimp exports exceeded US$ 3.1 billion. By 2022, that figure was over twice as high.
The shrimp industry also accounts for a large number of jobs nationwide. Ecuador's National Chamber of Aquaculture says companies in the shrimp business generate 130,000 direct jobs and 140,000 indirect jobs.
The main buyers of Ecuadorian shrimp are China, the United States, and Spain, but exports are shipped to over 40 countries worldwide. In November 2022 alone, China bought 105,531,044 metric tons of Ecuadorian shrimp. Ecuador is now the second largest shrimp exporter after India. In 2022, shrimp exports doubled from 2021 figures and a 30% growth was recorded between January and October 2022, according to Ecuador's Production Ministry.
Shrimp and bananas keep Ecuador and Mexico from signing a free trade agreement (FTA). The bilateral instrument was the gateway for the South American country to join the Pacific Alliance. Since 2019, Mexico is the world's seventh-largest shrimp producer, thus rivaling Ecuador in that business. While the Mexican government assures that bananas and shrimp will not be included in the agreement, Ecuadorian authorities maintain that without these products no agreement can be signed.
Last month, Mexican President Andrés Manuel López Obrador (AMLO) said that his government would sign the FTA as long as those two products were not included: "We are going to sign it, but the agreement included the removal of tariffs for the import of two products that were being proposed: shrimp and bananas," while Ecuador's Production Minister Julio José Prado insisted that the deal would be signed "as long as shrimp and bananas remain excluded."
(Source: Infobae)