Chevron activities picking up pace in Venezuela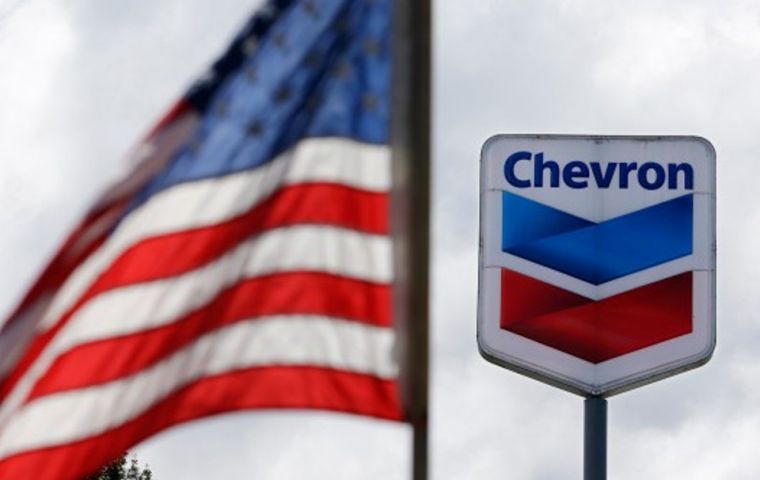 The first shipment of Venezuelan crude oil to a US refinery in quite a while is about to set sail, it was reported in Caracas. Oil producer Chevron is to send the oil to its Pascagoula, Mississippi, refinery after obtaining a US license in 2022.
According to Reuters, the 500,000-barrel cargo of Hamaca heavy crude stems from the Petropiar joint venture.
The Bahamas-flagged Caribbean Voyager was reported to be ready for loading near the PDVSA-run port of Jose, while the UACC Eagle, also chartered by Chevron, arrived Tuesday in Venezuelan waters with about 500,000 barrels of heavy naphtha to help operate Petropiar's crude upgrader.
In November 2022, Chevron won a 6-month license to expand its operations in Venezuela to encourage talks between the government of Nicolas Maduro and the country's political opposition.
Washington had previously authorized Italy's ENI SPA and Spain's Repsol SA to recover outstanding debts in Venezuela by taking Venezuelan crude for refining in Europe.
The report further noted that the authorized shipments could slightly boost Venezuela's crude exports, which were almost unchanged year-on-year last year.
Meanwhile, Chevron Venezuela's Martin Philipsen has been appointed as Petropiar's general manager. The current general manager of US Chevron in Venezuela joined Petropiar on Dec. 8. It would be the first time that a Venezuelan official is not in charge of the management of an oil company as a whole since Venezuelan law establishes that PDVSA must maintain a majority shareholding.
Philipsen is an Engineering graduate from Boschveld University in Eindhoven, The Netherlands, and holds a Master's degree in Production and Energy Engineering from the Eindhoven University of Technology and another in Economics and Business Management from the French Petroleum Institute.
Early in December of 2022, Venezuela's Petroleum Ministry, PDVSA, and Chevron Venezuela signed four contracts to start operations in their four joint ventures: Petroboscan, Petroindependiente, Petropiar, and Petroindependencia after the US Treasury Department approved a new license to Chevron allowing it to expand its operations in the country.
Chevron CEO and president Mike Wirth recalled in a TV interview on Jan. 4 with Bloomberg that the oil company is the only US company with a presence in Venezuela. He also explained that although the license alleviates sanctions, time was still needed to increase production.
"The Gulf Coast refineries were actually designed to process crude coming out of Venezuela. So we will see a flow of oil into the U.S. and get some cash. They owe us some money for loans and things we've done over the years there. So this is a first step to potentially be followed by others," Wirth told Bloomberg.
According to other press reports citing the www.argusmedia.com website, Chevron had already started loading Venezuelan oil during the weekend on the charterer vessel Beauty One, although there was no confirmation that the US company was behind the deal.
The Beauty One tanker had arrived in Bajo Grande on Dec. 21, Argus reported. However, it clarified that "ship tracking data does not confirm that Chevron is the charterer of the Beauty One."
Argus also said that the UACC Eagle was due in José on Jan. 5 loaded with 620,400 barrels of naphtha according to Vortexa data. It "is a key diluent for extra-heavy Orinoco crude. Iran has been providing naphtha to Venezuela as part of an oil cooperation agreement," it was explained.
Chevron used to operate on a limited basis in Venezuela due to former President Donald Trump's sanctions. Under Joseph Biden, things have changed, but it was not until last November that it was made official when Chevron was greenlighted to partially resume activities.
Venezuela's Petroleum Minister Tareck El Aissami (accused of drug trafficking and with a reward in the US for his capture), shook hands with US envoys.
At the same time, Eni and Repsol also expect more concessions, according to the Venezuelan Oil Chamber (CPV), with Europe in need of energy in the absence of Russian supplies.
Venezuelan President Nicolás Maduro promised two years ago that PDVSA's output would reach 1.5 million barrels per day (bpds). However, as of November 2022, it stood barely at 693,000 bpds, according to the Organization of Petroleum Exporting Countries (OPEC).