Argentine Congress to be summoned for Chief Justice's impeachment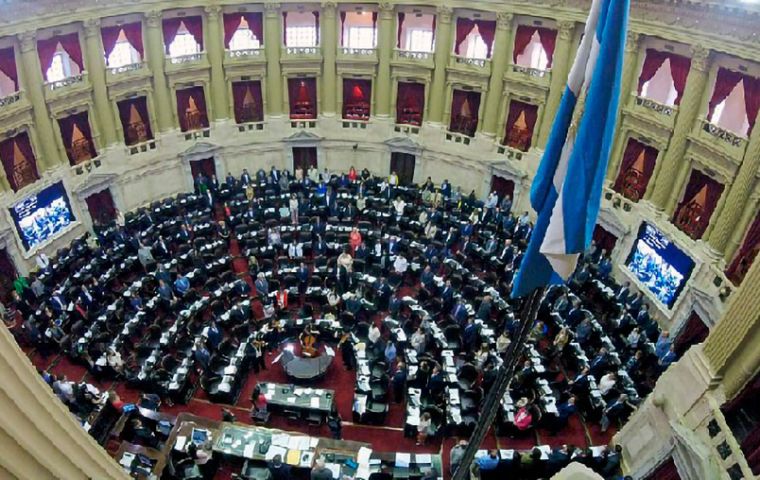 Argentine President Alberto Fernández is to summon Congress to extraordinary sessions in the second half of January to deal with the impeachment of Supreme Court (CSJN) Chief Justice Horacio Rosatti requested by the Executive branch, Spokeswoman Gabriela Cerruti announced.
She also dubbed the actions against the CSJN magistrate "a historic decision." Cerruti made those remarks during her usual press briefing held every Thursday at Casa Rosada.
"It has to do with the seriousness of the situation, the Supreme Court acts on the other two powers in the intervention of the Council of the Magistracy and in the Coparticipation," she explained. "Not only is the Court arbitrary with rulings with institutional transcendence but also in [its] delay for daily rulings," she added.
Cerruti explained that President Fernández had asked Deputies Germán Martínez, head of the FdT's Lower House bloc, and Carolina Gaillard, who chairs the Impeachment Committee, that "the times should be as short as possible." Fernández met with both lawmakers at the Olivos presidential residence. They were both given copies of a document over 30 pages long.
Many FdT governors have endorsed Fernández's initiative to seek Rosatti's impeachment for his bias in rulings involving political interests.
"In Argentina, the only privileged people are the judges," said Fernández after sending to Congress the impeachment request. He was also critical of Supreme Court Justice Carlos Rosenkrantz, without mentioning him.
"We learned that where there is a need, there is a right, despite what some judge says," Fernández argued. Rosenkrantz had stated that "there cannot be a right behind every need, simply because there are not enough resources to satisfy all needs."
Perhaps when he mentioned the privileges of judges Fernández was thinking of former Judge Carlos Pelagio Galíndez, who married his mother, Celia Pérez, when he was seven years old, and whom he regards as his father. His biological father, Alberto Oscar Pío Fernández, had left him when he was four years old and he never heard from him again.