Arrest of Chapo's son leaves at least 29 dead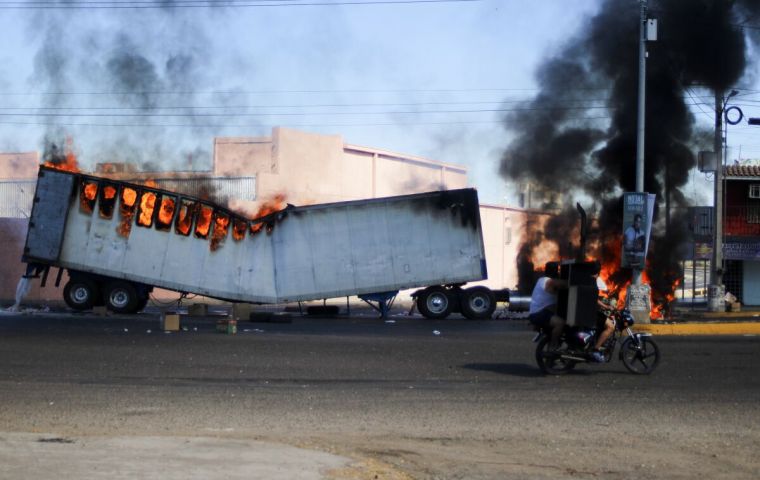 Following preliminary reports that mentioned only one fatality, at least 29 people have been confirmed Friday to have died during the raid to arrest 32-year-old druglord Ovidio Guzmán, allegedly linked to the Sinaloa cartel his father Joaquín (also known as "El Chapo") used to run before being captured and extradited to the United States.
Mexican authorities have confirmed that 10 military personnel and 19 suspected criminals had died, while another 35 military personnel suffered gunshot wounds and were receiving hospital care.
"Ten members of the military lost their lives in the line of duty in the interest of guaranteeing security. The Mexican state will give them funeral honors," Defense Secretary Luis Cresencio Sandoval told reporters. He also mentioned "19 deaths on the part of lawbreakers," with other 21 gunmen apprehended.
A colonel who commanded an infantry battalion was among those killed after his patrol was attacked during operations following Guzmán's capture in the city of Culiacán, Sandoval said. Another 35 military personnel suffered gunshot wounds and are receiving hospital care.
"We have no information of any innocent civilians who have lost their lives," Sandoval said during Mexican President Andres Manuel Lopez Obrador's daily morning press conference.
The Sinaloa Cartel's efforts to rescue their leader also resulted in a passenger airliner and two Mexican Air Force aircraft hit moments before take-off. The official aircraft "had to make an emergency landing, even though they had received a significant number of impacts," said the Defense Secretary.
The operation early Thursday involved 3,586 members of the Armed Forces, who also confronted the violence unleashed in the streets of cities such as Culiacán (Sinaloa's capital), Los Mochis, and Mazatlán.
AMLO underlined that his government had acted in a "responsible" manner to "take care of the civilian population so that there would be no innocent victims." He added that Sinaloa Governor Rubén Rocha had informed him that the situation in the region was returning to normal.
"There are no armed groups in Sinaloa, in blockades, who are already removing since yesterday all the cars that were set on fire and that they used to block the streets, practically in the whole city (of Culiacán)," AMLO explained.
Sinaloa residents are still shaken by the 2019 controversial "culiacanazo," an operation in which federal forces arrested Ovidio Guzmán on October 17, 2019, but released him hours later due to violent acts by his gang.
Ovidio Guzmán, aka El Ratón, was transferred Thursday night to the Federal Center for Social Readaptation (Cefereso) number 1 Altiplano - also known as the Almoloya prison, where his father was once held and from where he managed to escape in 2015.
Read also: Chapo Guzmán's son arrested in Mexico