Chile's Justice Minister resigns to avoid impeachment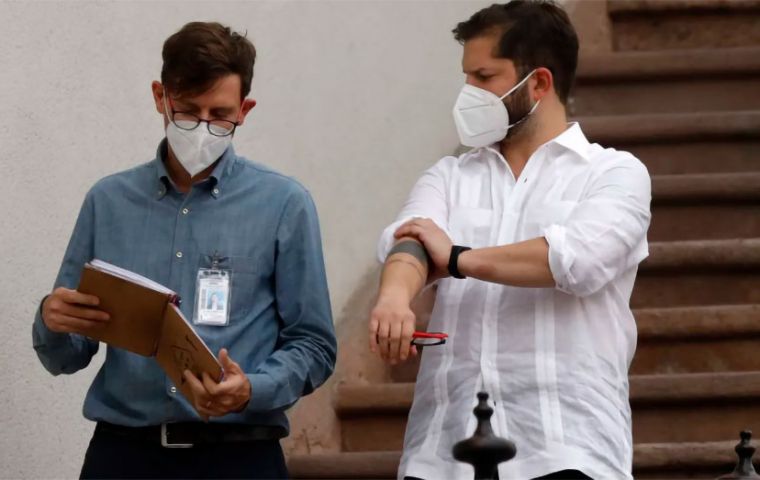 Chilean President Gabriel Boric Font accepted during the weekend the resignations of Justice Minister Marcela Ríos and Cabinet Chief Matías Meza Lopehandia, it was reported in Santiago.
"There were irregularities in the execution of my decision to grant pardons," Boric explained regarding the 13 cases in which he exercised his constitutional right to commute or suppress criminal penalties last month.
"Considering the need to strengthen the political management of the Ministry of Justice and Human Rights, I have decided to accept the resignation of Marcela Ríos Tobar from that portfolio," Boric went on.
"When, in politics, situations of these characteristics happen we must assume responsibilities. In her replacement I have decided to appoint the outstanding lawyer Mr. Luis Cordero Vega," Boric also said. Cordero is currently out of the country and will take up his new duties shortly, it was also reported.
Ríos' departure from office was announced hours after the opposition parties Renovación Nacional and Unión Demócrata Independiente were to request her impeachment at the National Congress, where the ruling coalition does not have a majority.
On Dec. 30, 2022, Boric pardoned 12 people convicted for violent acts during the October 2019 social uprising that eventually catapulted him to the presidency. But he added a 13th beneficiary: a former member of the Frente Patriótico Manuel Rodríguez (FPMR) guerrillas, who had been convicted of bank robbery in 2013.
The October 2019 riots left some thirty people dead, some 400 people with eye injuries from police repression, and thousands of law enforcement officers injured.
Ríos was also questioned for her handling of the appointment of the national prosecutor, whose first two names proposed by the President were rejected by Parliament. A third candidate for that position is to be voted on Monday, Jan. 9.
The pardon of the prisoners of the revolt was one of Boric's campaign promises during his presidential campaign. But he also granted a pardon to Jorge Mateluna, a former member of the armed organization Frente Patriótico Manuel Rodríguez that fought against the Augusto Pinochet dictatorship (1974-1990), who had been convicted in 2013 of bank robbery, a fact that his family and close relatives deny to this day.
"Eleven months have passed in which she had to appoint a National Prosecutor and, of course, eleven months in which she had to advise the President not to pardon people with a record, not to pardon people with previous pardons, not to pardon terrorists," said Deputy Jorge Alessandri, of the conservative Independent Democratic Union (UDI).