AMLO wants Biden to end abandonment of Latin America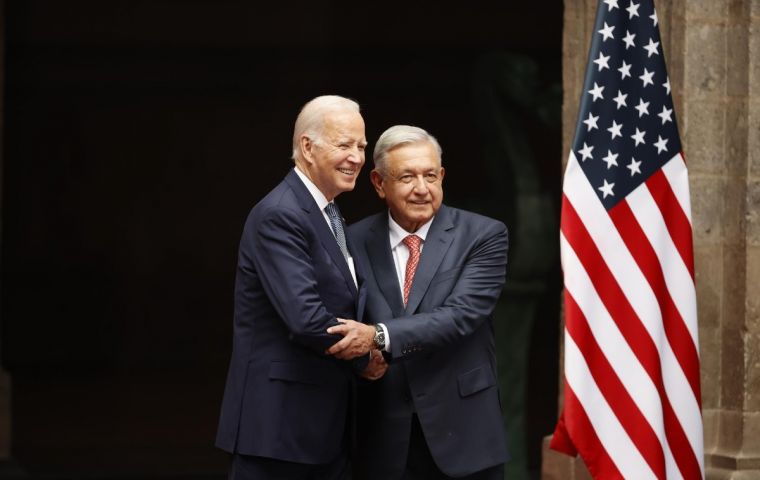 Mexican President Andrés Manuel López Obrador (AMLO) asked his US colleague Joseph Biden to take a look at his closest neighbors when allocating aid funds. The two leaders met Monday in Mexico City to discuss the needs of the American continent in the coming years, particularly regarding cooperation and migration.
"I maintain that it is time to put an end to that oblivion, that abandonment, that disdain towards Latin America and the Caribbean, opposed to the policy of good neighborliness of that titan of freedom that was President Franklin Delano Roosevelt, and start with you, because there would be no other leader who could carry out this enterprise, (...) a new stage among the peoples and nations of the continent based on respect and mutual aid," López Obrador told Biden.
"I know that it is a complex and controversial initiative, and I am aware that its implementation implies numerous difficulties, but in my opinion, there is no better way to guarantee the prosperous, peaceful, and just future that our peoples, our compatriots, as well as all the peoples of the continent and future generations deserve," he added.
"The proposal, President Biden, is comprehensive, it implies consolidating ourselves as an economic region in the world, strengthening brotherhood in the American continent, respecting our differences and our sovereignties, and ensuring that no one is left behind and that together we go in search of the beautiful utopia of freedom, equality, and true democracy," AMLO went on.
Biden described Mexico as "a true partner" and stressed that when both countries work together with common values and mutual respect "there is nothing" they cannot do. "The United States provides more foreign assistance than any other country, all together, all over the world, not only in the hemisphere but all over the world," Biden replied while insisting on the importance of "continuing to support and build democratic institutions." He also called for joint action to address "the plague of fentanyl, which has killed 100,000 Americans so far" and pointed out that efforts to tackle illegal immigration were already underway.
"The last fundamental change that happened in global politics was after World War II and now we are at a totally different juncture, we are at a turning point, what we do in the next few years is going to change how the world will look in the next few decades, and we have the opportunity to do that and I think we are in a very good place to be able to do that," Biden pointed out.
"I wish we could focus on just one region, but we focus on multiple regions and this is what we have to work on. I feel confident that we can do much more in the coming years," he went on.
"It is not enough to integrate North America, this integration is being done very well with respect to the sovereignty of Canada, the United States, and Mexico, but it is very important to think about consolidating our entire continent," AMLO had told reporters Monday in his morning press briefing after speaking with Biden for over an hour on Sunday.
The Mexican president also supported the new US immigration policy, which last Thursday announced the monthly reception of 30,000 migrants from Cuba, Haiti, Nicaragua, and Venezuela, although it entailed the immediate deportation to Mexico of all the others who arrive by land. AMLO insisted, though, that the US should invest in the development of Latin America to make migration "optional."
López Obrador and Biden will be joined Tuesday by Canadian Prime Minister Justin Trudeau for the traditional "Three Amigos" meeting which was interrupted during the Donald Trump years.
Meanwhile, some 2,000 migrants stranded on Mexico's southern border demanded freedom of transit during Biden's visit to the country. At a temporary care center in Tapachula, on Mexico's border with Guatemala, migrants from Peru, Dominican Republic, Guatemala, El Salvador, Honduras, Ecuador, China, Haiti, Venezuela, and Africa asked that their procedures to remain legally in the country and transit to the northern border be resolved. Some migrants from China, Peru, Dominican Republic, Honduras, Guatemala, and El Salvador do not qualify to receive a Multiple Migration Form (FMM) that would allow them to stay legally in Chiapas. They must go to the Mexican Commission for Refugee Aid (Comar) to request their asylum petition in Tapachula and wait 45 days for processing and, depending on the resolution, go to the National Migration Institute (INM) to request a visa for humanitarian reasons.
The region is experiencing a record migration flow with 2.76 million migrants apprehended at the U.S.-Mexico border in the fiscal year 2021.