Biden, Trudeau, and AMLO hold "Three Amigos" Summit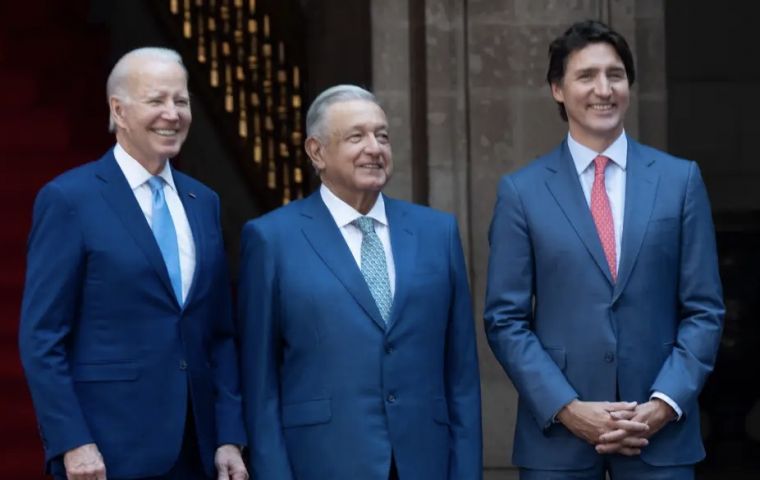 The Presidents of Mexico and the United States -Andrés Manuel López Obrador (AMLO) and Joseph Biden- and Canadian Prime Minister Justin Trudeau Tuesday got together in Mexico City for the so-called "Three Amigos" Summit, a traditional gathering last held in 2021.
The three countries agreed to study measures to promote the North American semiconductor industry, strengthen cooperation to eradicate drugs, and improve legal paths for migrants, in addition to a wide assortment of issues, such as the situation in Haiti and Brazil's political instability.
Biden and Trudeau met alone before joining host AMLO to reaffirm their commitment to a strong regional economy. "As a continent, we are unique," said Trudeau. "We are three large democracies. committed to freedom, human rights, equality, and creating real opportunity for everyone," he added.
"The top of our shared agenda today is keeping North America the most competitive, prosperous, and resilient economic region of the world," Biden stressed. AMLO added that it was necessary to make the region more self-sufficient and, for that, the production of semiconductors would play a key role after the shortages caused by high demand and low supply as the supply chain was hit by the Covid-19 pandemic.
"Today we discussed how we can build reliable value chains on this continent for everything from critical minerals to electric vehicles to semiconductors," Trudeau agreed. "This is good for workers, good for consumers, good for communities across our countries," he went on.
The three countries need to find a solution to a controversy stemming from Mexico's policies prioritizing its cash-strapped energy companies at the expense of private investors.
Biden also underlined the need to make North America a "clean energy powerhouse", while meeting "our ambitious commitments under the Paris Agreement, including tackling methane and black carbon." The three leaders pledged to reduce methane emissions and food waste among other steps to accomplish those targets.
One of the biggest items on the agenda was migration. AMLO thanked Biden for building "not one more meter of a wall" along the US southern border and also praised Trudeau's extension of temporary work visas to 25,000 Mexican nationals. "Peace is the result of justice [and] social problems cannot be solved only with coercion measures," AMLO stressed.
"The leaders of North America reaffirmed their commitment to work together to achieve safe, orderly, and humane migration in the region," the White House said.
"In just the last six months, our joint patrols in Mexico have resulted in the arrest of more than 7,000 human smugglers," Biden said. "We've seized more than 20,000 pounds of deadly fentanyl," he added.