Brazil's Judiciary freezes bank accounts of Bolsonaro, Rocha, and Torres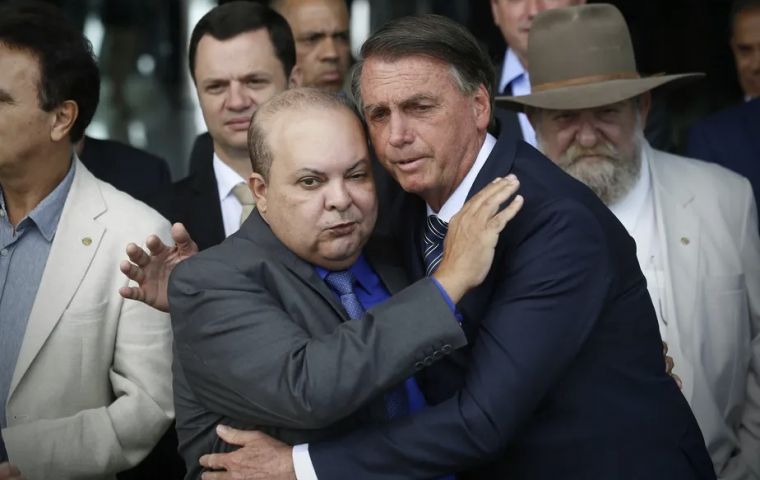 Brazil's Judiciary issued a court order freezing former President Jair Bolsonaro's bank accounts as well as those of other people who held public offices during his administration to fund the repairs of Sunday's riots in Brasilia, it was announced after the former head of state was discharged from hospital in the US state of Florida.
The measure came at the request of Prosecutor Lucas Rocha Furtado, who argued that "due to the Accounting Process and the vandalism that occurred in the Federal District on January 8, 2023, which caused numerous losses to the federal treasury, I request the unavailability of assets be decreed."
The freezing of assets "of other responsible parties, especially those who financed the aforementioned illicit acts" was also requested against suspended Brasilia Governor Ibaneis Rocha and former Federal District Security Secretary Anderson Torres.
Meanwhile, Congresswoman Erika Hilton of President Luiz Inácio Lula Da Silva's Workers' Party (PT), requested Bolsonaro's extradition, the documents already in the hands of Foreign Minister Mauro Vieira. "I come to request this Ministry to adopt the corresponding measures to file the extradition request of Jair Mesias Bolsonaro," Hilton wrote.
Bolsonaro said on Tuesday that he would be returning to his country in the next few days after being discharged from an Orlando hospital where he had been admitted with a new bout of abdominal pain.
"I came [to the United States] to stay until the end of the month [January], but I intend to bring forward my return because in Brazil the doctors already know about my intestinal obstruction problem due to the stabbing. Here, the doctors did not accompany me," said Bolsonaro, who had flown to the US state of Florida to avoid participating in President Luiz Inácio Lula Da Silva's inauguration.
He was admitted Sunday to a hospital for severe abdominal pain related to injuries he suffered in a stabbing attack during the 2018 presidential campaign. When he arrived in the US he remained silent for several days and could barely be seen eating fried chicken in a fast food house and in a supermarket.
When thousands of his supporters stormed the headquarters of Brazil's three branches of government, Bolsonaro remained silent for a few hours before condemning those events on social media, saying that the demonstrations had gone beyond the limits of the law. The former president's rightwing followers were refusing to admit the outcome of the Oct. 30 runoff which Lula won by a narrow margin. But Bolsonaro, who distanced himself from the events, also criticized Lula's accusations, which he claimed were unsubstantiated. Then his hospitalization was announced.
Bolsonaro, who was believed to have moved to Orlando to dodge any possible legal action against him, left the hospital shortly after 7 pm local time and drove to a house belonging to former Brazilian martial arts fighter José Aldo in Kissimmee, where he has been residing since arriving in the country.
Bolsonaro, 67, has had numerous health problems stemming from the stabbing he suffered in 2018.