Pro Bolsonaro leader arrested over Sunday's riots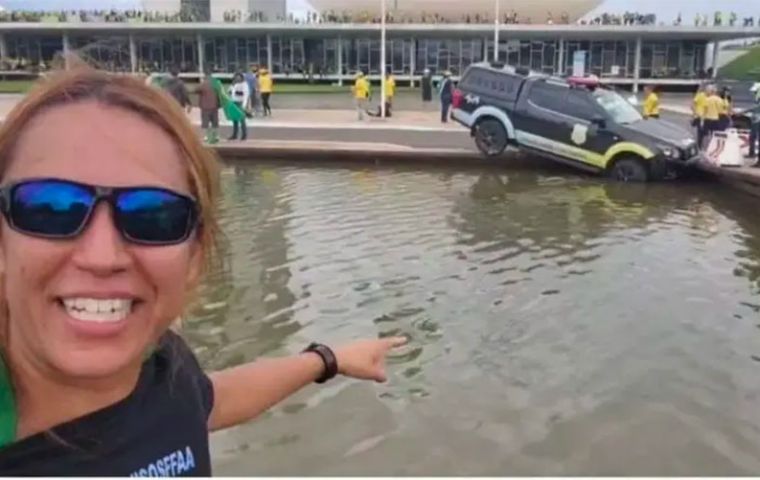 A woman said to be behind Sunday's events in Brasilia has been arrested by Brazil's Federal Police, it was announced Wednesday. Ana Priscila Azevedo is accused of organizing a coup attempt after parading through social media under the slogan "Power belongs to us."
According to the website Terra, Azevedo is the administrator of several Telegram groups with over 30,000 followers, in which she called to demonstrate in the Brazilian capital, block roads, and assault oil refineries. She also called for a military uprising.
Azevedo was arrested by order of the Supreme Court in the municipality of Luziania, in the central state of Goiás, and immediately transferred to Brasília, G1 reported.
Last Saturday she called on her social networks to "besiege" the headquarters of the three branches of government and to join the "caravans coming from all over Brazil" that would "bring down Babylon."
She has been pictured on the ramp of the Congress building, the Planalto Palace, and even in a camp set up near Army headquarters, where hundreds of people gathered to encourage the armed forces to stage a coup d'état Luiz Inácio Lula Da Silva's Oct. 30 win.
"We are going to collapse the system. We are going to take power by storm, power that belongs to us," Azevedo says in a video uploaded to her Twitter account Saturday.
Bolsonarista groups involved in Sunday's events claim she is a leftist "infiltrator."
In the meantime, Brazil's judiciary probe into Sunday's riots is focused on businessmen and friends of politicians who might have acted as instigators and financiers of the uprising through the rental of dozens of buses that drove the activists to Brasilia.
According to local media, among these financiers are local traders and businessmen linked to the agricultural sector, in addition to firearms collectors and hunters, a group known as the "CACs," who were favored under former President Jair Bolsonaro to purchase weapons.
According to Justice Minister Flávio Dino, most of these financiers voted overwhelmingly for Bolsonaro in the Oct. 30 runoff which Lula won by a narrow 1.8-point margin. The owner of one of the buses seized after Sunday's events was linked to Bolsonarist Congresswoman Carla Zambelli.
The Socialism and Liberty Party (PSOL), a member of the coalition that brought Lula to power, requested the Federal Supreme Court (STF) to investigate 11 federal and regional lawmakers for "inciting" the Bolsonarista demonstrators, including Senator Magno Malta and federal Deputies Ricardo Barros, Carlos Jordy, Silvia Waiãpi, José Medeiros and Marcio Tadeu, who allegedly "supported in their social networks the terrorist actions."