Brazilian Finance and Environment ministers will attend the Davos Forum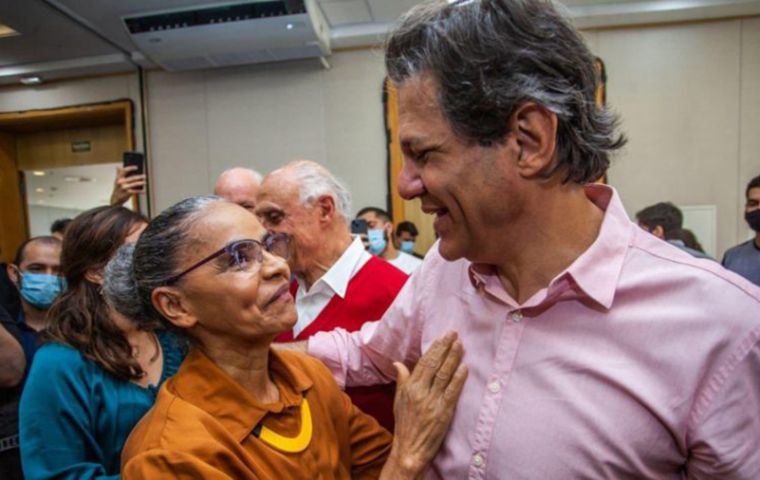 Brazil's Minister of Finance Fernando Haddad and the Minister of Environment Marina Silva will be the official representatives to the World Economic Forum, (WEF) scheduled for January 16/20 in Davos, Switzerland and the message from the delegation to global investors is that the weekend's turmoil "belongs to the past and Brazil is ready to play its important role in international politics".
The Brazilian delegation is aware that the WEF will be most interested in knowing what really happened when thousands of former president Jair Bolsonaro followers stormed the three branches of government last Sunday. WEF is scheduled to attract some 2,700 world leaders from 130 countries, including 52 heads of state and government, and CEOs of leading corporations meeting under the umbrella of "Cooperation in a fragmented world". ,
According to Brazilian diplomats and analysts the fact that Haddad and Silva will be jointly attending is an important signal to the global financial world, since it will mean that in Brazil with the new government, the economy and environment are aligned together in moving the country forward.
A busy agenda is anticipated since the two Brazilian ministers will have only two days for bilateral meetings, some of them still waiting to be scheduled and confirmed.
Haddad is also expected to officially announce that Sunday "belongs to the past," government is working normally and is pushing ahead since "Sunday events did not have much of an impact". Likewise Haddad is anticipated to announce a raft of measures geared to cut the government's budget deficit. In effect if the 242 billion Reais are effectively implemented, it is possible that the primary federal deficit can be taken to a more reasonable 90/100 billion Reais.
Haddad will also talk about fiscal reform and some of the amendments to be presented when the annual federal budget is sent to congress next August, which includes a new expenditure ceiling, following a long discussion with the different political parties in Congress'