Former Brazilian Justice Minister arrested upon returning from US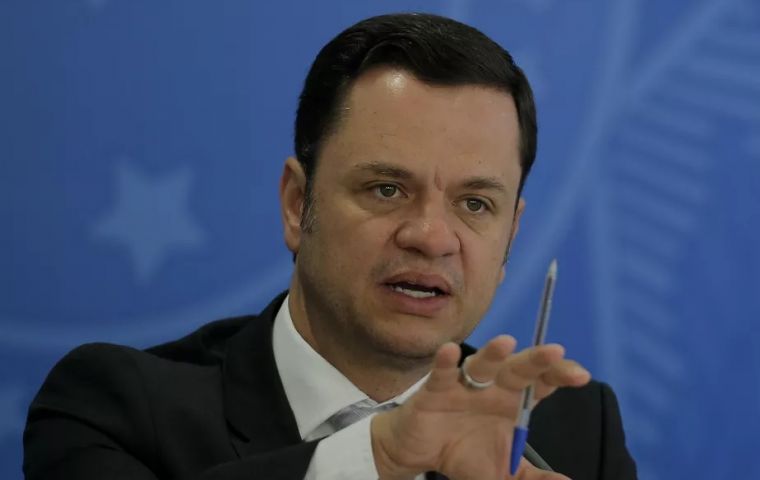 Brazilian Federal Police Saturday arrested former Justice Minister Anderson Torres on orders of Supreme Federal Court (STF) Justice Alexandre De Moraes for his alleged involvement in Sunday's (Jan. 8) riots.
After holding that post until the end of President Jair Bolsonaro's term on Dec. 31, Torres became Security Secretary of Brasilia, under pro-Bolsonarist Governor Ibaneis Rocha, who sacked him on Sunday. Rocha was later suspended for 90 days by De Moraes as most Brasilia officials involved in city security areas are believed to have turned a blind eye to the ongoing uprising against President Luiz Inácio Lula Da Silva.
Torres' pre-trial detention had been determined Tuesday by the STF, but at that time he was vacationing in the US State of Florida. Justice Minister Flávio Dino said that if Torres did not return by Monday, the government would request his extradition. But he arrived on a Gol flight from Miami, which landed at Brasilia International Airport at 7.17 am Saturday.
"I believe in Brazilian justice and in the strength of institutions. I am sure that the truth will prevail," he said in a message posted on social networks.
The STF had also issued a search warrant for Torres' home, where a draft decree was found mandating the intervention of the Superior Electoral Court (TSE) and amending the outcome of the Oct. 30 runoff. Torres insisted that such a document had been "leaked out of context" to "feed fallacious narratives" against him.
About 1,800 people were arrested after the assaults on the headquarters of the three branches of government.
The STF is also investigating Bolsonaro as a possible mastermind behind Sunday's events. Bolsonaro still does not recognize his Oct. 30 defeat. According to the prosecution, "Bolsonaro would have made public incitement to the practice of crime" by publishing on Jan. 10 a video statement on Facebook in which he once again questioned the outcome of the elections, which has been deleted.
The crimes under investigation are terrorism, criminal association, violent abolition of the democratic rule of law, coup d'état, threat, and persecution.
Torres is already under arrest for being considered responsible for leaving a "free zone" in the federal district so that Bolsonaristas could break into public buildings of the three branches of government and vandalize them without being prevented by the police.
For Dino, "what we saw here on January 8 was not something isolated but an element of a chain, a link of a coup movement in Brazil, and that there were astonishing preparatory acts such as this decree of military intervention."