Argentine passenger among those killed in Nepalese airliner crash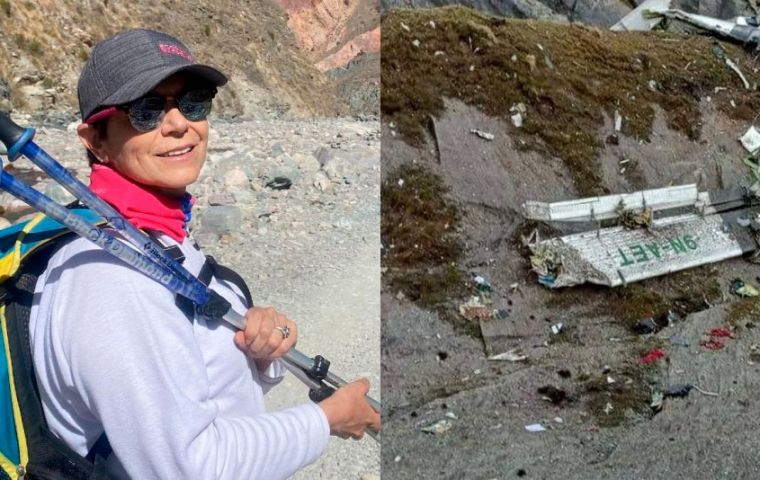 An Argentine 57-year-old woman was confirmed to be aboard the Yeti Air ATR 72 twin-engined European-built turboprop airliner that crashed Sunday while trying to land in Pokhara, a tourist town in central Nepal.
The aircraft was carrying 68 passengers, including 15 foreign nationals, and four crew members, according to a statement from the Nepalese Civil Aviation Authority.
In addition to the Argentine traveler, the other foreigners were from India (5), Russia (4), South Korea (2), and Ireland, Australia, and France (1 each).
The moment when the aircraft abruptly went down was recorded on video and the footage went viral on social media.
The Neuquén-born Jannet Sandra Palavecino was on a mountaineering trip to the Himalayan peaks, it was reported.
The flight from Kathmandu, the Nepalese capital, crashed shortly before 11 am local time near Pokhara. The fuselage was found in a deep ravine between the old 1958-built Pokhara airport, and the new international terminal opened on Jan. 1.
Pokhara airport spokesman Anup Joshi said the plane crashed as it approached the site, adding that it was "flying at 12,500 feet and was in normal descent." The weather on Sunday was clear.
"The aircraft crashed in a ravine, so it is difficult to get the bodies out. The search and rescue operation continues. At the moment no survivors have been found," an army spokesman told AFP.
A local official initially said that "some" survivors were taken to hospital, but this was not confirmed either by Yeti Airlines or other sources. A witness quoted by Reuters sail residents took two passengers to a hospital.
According to the Aviation Safety Network database, it was the deadliest accident in Nepal since 1992 when a Pakistan International Airlines Airbus A300 crashed into a hillside on approach to Kathmandu, killing all 167 people on board.
Nearly 350 people have died since 2000 in plane or helicopter crashes in Nepal - home to eight of the world's 14 highest mountains, including Everest - where sudden weather changes can create dangerous conditions.
The journey to Pokhara, Nepal's second-largest city, is one of the most popular tourist air routes in the Himalayan country.
Flight tracking website FlightRadar24 said on Twitter that the Yeti Airlines plane was 15 years old and equipped with an old transponder with unreliable data. It added that the last signal was received at 05.12 GMT at an altitude of 2,875 feet above sea level. Pokhara airport is about 2,700-2,800 feet above sea level.
Palavecino co-owned with her brother Omar the Hotel Suizo, a family business they inherited from their parents. "It is a commercial enterprise, but it is also part of our family history," Jannet had said in an interview with the portal LMNequén.
"We will miss you and keep you always present in our memory. My greetings and condolences to all the family and loved ones," Neuquén Governor Omar Gutiérrez posted on Twitter.