Latin America's largest green hydrogen plant to start production in March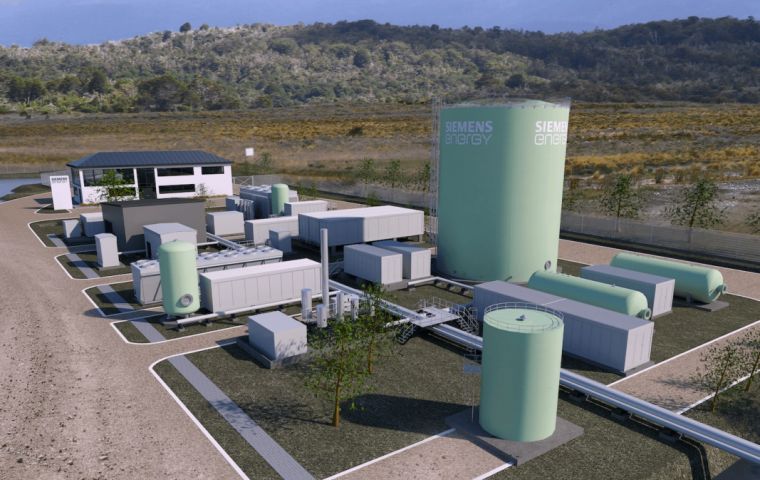 Chile plans to start producing and exporting green hydrogen-based synthetic gasoline when the Haru Oni plant, owned by Highly Innovative Fuels (HIF), starts operating in March 2023, it was reported.
Construction of the plant started in 2021 and by the end of 2022, the first liters of green hydrogen-based synthetic gasoline were delivered, according to Xinhua. The largest such plant in the region thus marks a milestone in the transition toward replacing fossil fuels.
"It's a game changer for the transportation industry," HIF Global General Manager Clara Bowman told Xinhua. She explained that this innovative product can displace conventional gasoline, derived from oil, coal, or natural gas, without the need to convert the existing vehicles.
"This fuel is 93-octane gasoline. It is chemically identical to conventional benzine, but free of impurities. Its added value is to be a contribution to decarbonization, as it reduces particulate matter emissions by 90 percent," Bowman said.
According to the company, Haru Oni is a smaller demonstration plant with the capacity to produce 350 tons of crude methanol and 130,000 liters of ecological gasoline per year, using wind energy and carbon dioxide (CO2) extracted from the atmosphere. This level of production could supply approximately one million cars per year and thus support the energy transition, Xinhua also reported.
"Being a demonstration plant, the only one of its kind in the world, it will allow us to learn from a production process that had only been done at the laboratory level," said Bowman, who hopes that Haru Oni can turn this area into a hub of innovation and serve as a guide for other similar projects.
For Siemens Energy, the firm that is also driving the project, the plan is to increase the production of environmentally neutral fuel to 55 million liters per year in 2024 and to more than 550 million in 2026.
The project is based in the city of Punta Arenas, in Chile's Magallanes region, some 3,000 kilometers south of Santiago. The extensive and unpopulated region of some 170,000 inhabitants is ideal for the installation of turbines to capitalize on winds of up to 100 kilometers per hour to generate a commercial and sustainable product. the US$ 74 million Haru Oni project is located in an area of 3.7 hectares within the Tehuel Aike property.
Chile seeks to lead the world in 2050 in the production of green hydrogen, a gas that would contribute between 17 and 27 percent of the reductions needed to achieve carbon neutrality in 30 years, in addition to savings of up to US$ 15.2 billion. Chile's Magallanes and Antarctica region could produce 13% of the world's green hydrogen, while annual wind-electric generation could exceed the national matrix sevenfold, according to Chile's Ministry of Energy.
(Source: Xinhua)