World in a "sorry state" and "the climate battle is being lost," UN Guterres to Davos Summit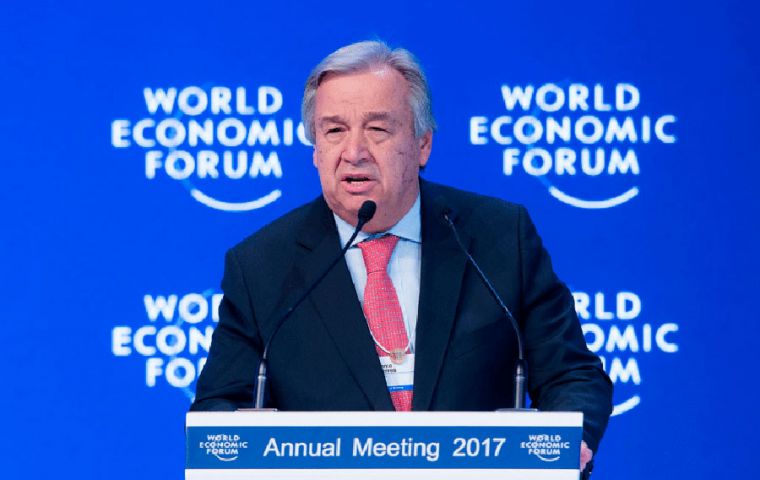 United Nations Secretary-General Antonio Guterres said the world is in a "sorry state," adding the climate "battle is being lost" and every week brings "a new climate horror".
Speaking in Davos at the World Economic Forum meeting, Guterres said a number of issues, including food production and Russia's invasion of Ukraine, are "piling up like cars in a chain reaction crash."
The UN chief said that increasing geopolitical division is undermining efforts to tackle global challenges such as soaring inflation and supply-chain disruptions due to the COVID-19 pandemic. He added that high debt levels are "pounding" developing countries.
Guterres said the world is "looking into the eye of a Category 5 hurricane." He added "our world is being plagued by a perfect storm on a number of fronts."
Guterres called climate change an "existential challenge" for humanity. He added that the commitment to limit the Earth's temperature rise to 1.5 degrees Celsius "is nearly going up in smoke," referring to the target set by the Paris Agreement in 2015.
Guterres also criticized oil firms for promoting skepticism on climate change, referring to a recent study that found scientists at US oil and gas giant ExxonMobil made predictions with "shocking accuracy" several decades ago at a time when the company publicly doubted global warming.
"We learned last week that certain fossil fuel producers were fully aware in the 1970s that their core product was baking our planet," he said in his speech. "Some in Big Oil peddled the big lie"
"Just like the tobacco industry, they rode rough-shod over their own science," Guterres said. "And like the tobacco industry, those responsible must be held to account.