Penguin Awareness Day; Falklands home of five species, King, Magellanic, Gentoo, Rockhopper, Macaroni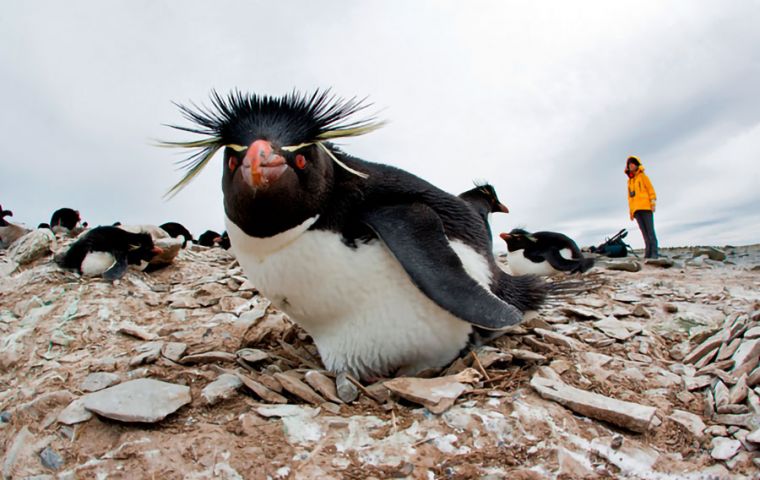 Penguin Awareness Day is celebrated on January 20 of every year. Penguins are a group of aquatic and flightless birds. They live in the Southern Hemisphere, and a particular species of the Penguin named Galapagos Penguin is found only in the north equator region called Temperate Zone.
Penguins are counter-shaded dark and white plumage. Their Wings are evolved into flippers, and they live in water areas only. Most of the penguins will feed krill, squid, fish, and some forms of sea life creatures that are caught while swimming under the water. The life of a Penguin may be divided into two portions. They spend half of their lives inland and another half in the ocean.
Penguin Awareness Day was initiated to bring more focus to the conservation of Penguin Habitats.
The exact origin and the founder of Penguin Awareness Day are still unknown. The term Penguin was first published in the 16th century as a synonym for Great Auk. There is a debate about the etymology of the name "Penguin". The source of the word is English or Dutch. The alternative etymology relates the word to Latin Word "Pinguis," which refers to Fat or Oil.
Penguin Awareness Day helps raise awareness about the flightless birds whose numbers are dwindling and also aims to bring international focus on the conservation of penguin habitats.
The Falkland Islands are one of the world's great penguin capitals: as many as a million penguins nest in the Falklands every summer, representing five of the world's seventeen species – King, Gentoo, Rockhopper, Magellanic and Macaroni. What's more, for the Gentoo, the Falklands are home to the largest population on Earth.
Of the known species of penguins, the largest are the emperor penguins, which live mostly in Antarctica colonies. The smallest known penguin species are the little penguin found in the coastal areas of Australia and New Zealand.
It is thought that the black and white coloring of the penguins is a camouflage which helps them to hide from underwater predators. While penguins are great at diving and swimming, they cannot fly even though they are considered to be part of the bird family. They use their wings as flippers to move quickly underwater.
How to celebrate? Learn more about these majestic birds and their habitat and try to understand how human activity may be affecting them; If your local zoo has penguins, why not take a trip there to spend some time observing them?
The Falkland Islands are globally important for their penguin populations. This is recognized internationally through designation of 22 Important Bird Areas, all of which are coastal or island sites containing breeding colonies of these attractive birds.