Taiana says UK attitude a "lack of respect for international law"
Friday, January 20th 2023 - 10:16 UTC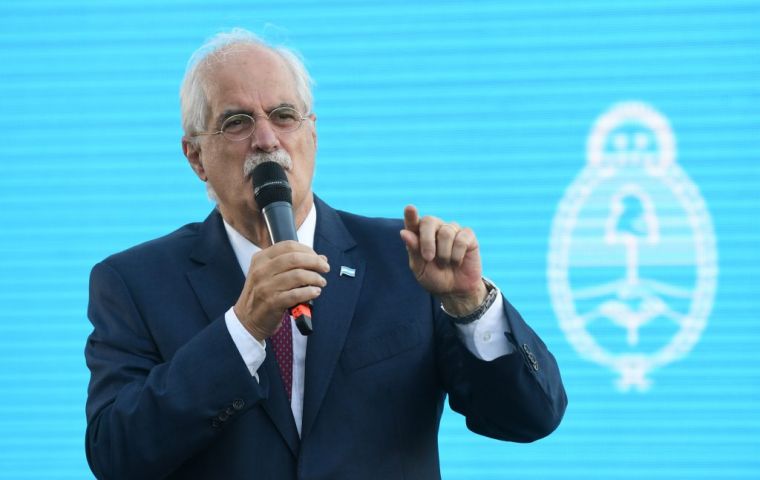 Argentina's Defense Minister Jorge Taiana Thursday demanded once again that Great Britain agrees to discuss the Malvinas/Falklands issue and insisted that the latter's reluctance to do so was a "lack of respect for international law." Taiana also argued that "the powerful should not use force to impose their interests."
The United Kingdom needs to "sit down once and for all to talk about Malvinas," said Taiana when bidding farewell to groups of the three Armed Forces leaving for Cyprus on a peacekeeping mission as United Nations Blue Helmet troops.
Regarding this assignment, Taiana pointed out that "the task of our force is to control that buffer zone to avoid accidents."
"This shows that we believe in international law and peaceful negotiation so that the British sit down to talk once and for all," Taiana went on.
"We must not forget that we have part of our territory occupied. We have a sovereignty dispute pending resolution because one of the parties refuses to sit down to talk, in a show of disrespect for international law and the peaceful settlement of serious disputes," he added during the farewell ceremony at the I Air Force Brigade in El Palomar, in the province of Buenos Aires.
"In a world where war is a reality, the powerful should not use force to impose their interests and modify the world order," Taiana stressed.
"You have a specific task as Blue Helmets, and at the same time you have the task of representing our homeland to confirm that we are a sovereign State that will not submit to the designs of the powerful," Taiana told the departing military personnel.
The Blue Helmets are members of the Armed Forces of their respective countries and work with the UN Police and local authorities to "promote stability, security and peace processes" worldwide.
The Argentine mission departed at 10.30 am onboard an Air Force transport Boeing 737 aircraft named "Islas Malvinas," registration T-99.