Uruguay's Ambassador to BA fears change of gov't would scare Argentine investors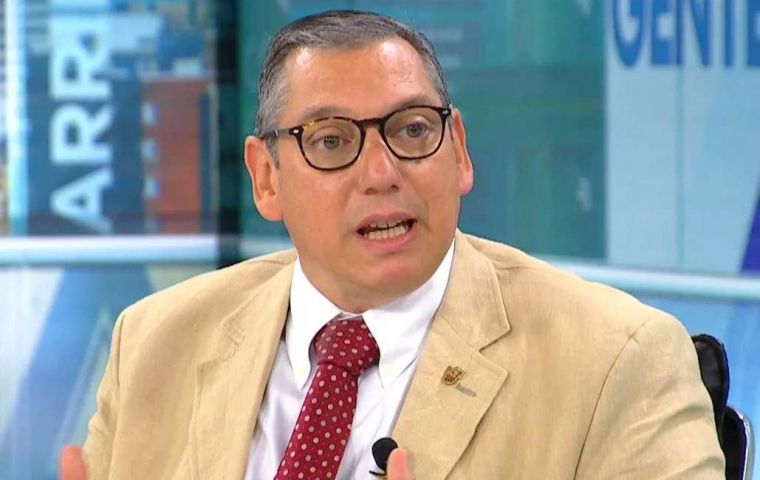 Uruguay's Ambassador to Buenos Aires Carlos Enciso said in a radio interview that a political change in his country's government would scare away potential Argentine investors after the favorable policies in the past few years by President Luis Lacalle Pou.
"They tell us 'we like your president very much'," Enciso told Diamante FM. He added that a change in the political orientation of the government in Uruguay could make Argentinian businessmen decide to invest elsewhere.
According to Enciso, who before Argentina is a representative of the State and not of a political party, the businessmen of that country commented to him their affinity for the current Uruguayan government.
"They tell us 'we like your president and your government very much', although they also point out that the previous ones were not bad either, as long as there were certainties. In general, the attitude of this government is broader and more open-minded, obviously in many areas this is more liked and goes down better," Enciso said.
"I do not doubt that, if the [political] sign changes, hopefully not, there will be people who would rethink things. Those who are there will not automatically leave because of a change of government, but those who are not there and may come from there will have different ears and may have other objections," he explained.
"There is a clear issue that was complicated and put our country in doubt, and that is that the occupation [of workplaces during strikes] was classified as an extension of the right to strike. Some companies left. It is not the normal balance between the worker and the capital," Enciso argued. "Now this has been balanced and is firm. There are Argentine companies that say that now they want to invest in Uruguay".
Enciso insisted Argentine businessmen were happy with Uruguay's current administration, and that many decided to invest after the Law of Urgent Consideration Law (LUC) sponsored by the Lacalle Pou administration.
When the occupation of workplaces was deemed an extension of the right to strike many investors withdrew from Uruguay. "I was mayor [of the department (province) of Florida] and they left. That today was balanced with the LUC and there are Argentine companies that say today yes I want to invest in Uruguay," Enciso also pointed out.
Following these "inadmissible" statements, Uruguay's opposition lawmakers from the Broad Front (Frente Amplio - FA) reacted strongly, because the diplomat, in their view, was representing a country and not a specific political party.
"It seems that in this government there are ambassadors who have a crown. Diplomats cannot carry out activities or make political/partisan statements. Even to make statements proper to their function they need express authorization," Senator Daniel Caggiani posted on Twitter.
Senator Liliam Kechichian said Enciso's statements were in "violation of his duties as ambassador."
"We hope that the Foreign Ministry takes action on the matter," Senator Mario Bergara.
It was also recalled that under FA governments, foreign investment grew in Uruguay as it had not done in the previous 20 years.