Ushuaia tourism season in full swing with 92,000 visitors so far and another 157,900 expected by end of season
Saturday, January 21st 2023 - 09:51 UTC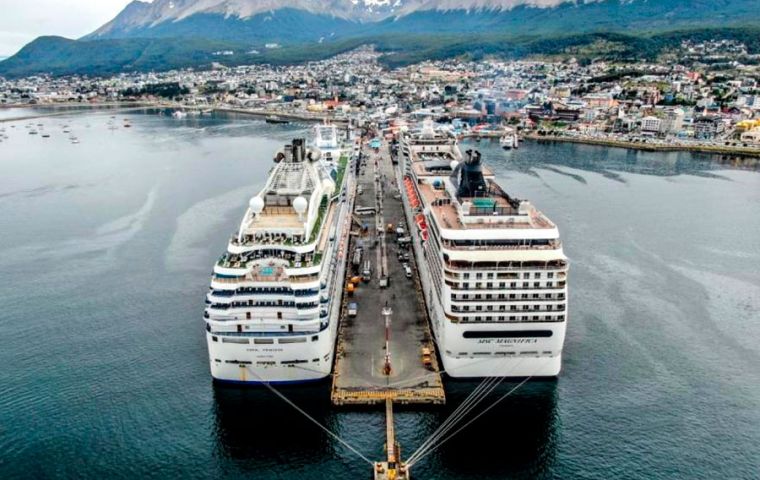 The Ushuaia summer tourism season is in full swing with some 92,000 visitors having arrived at the Argentine extreme southern city by the third week of January, while another 157,900 are expected by the end of March/April, according to data released by the Tierra del Fuego province port authorities.
Of the total arrived so far, visitors from the 2022/23 cruise season are the most numerous and are expected to mark a record, compared to previous years. As it was anticipated before the beginning of the current season, Ushuaia is expecting a total of 530 calls from different flag vessels, several times the figure of 2021/22 when the total calls were 120.
Ushuaia port authorities have also revealed that call reservations for the 2023/24 season have already reached 540, and 250 confirmed for 2024/25. "Port activity is most dynamic and promising, we are convinced this is going to be sustained in the coming years".
Ushuaia port authorities said that besides cruises, intense traffic also included scientific, cargo, military, fisheries, tugs and bunker vessels.
However success in Ushuaia has not come with some criticism from the private sector which complained that the "city is not prepared to handle the amount of cruise vessels and visitors this season"
But the head of the Tierra del Fuego Tourism Office, Dante Querciali, questioned statements from the Argentine Confederation of Tourism Enterprises, CAME, Gregorio Werchow arguing that Ushuaia had ample capacity to receive visitors and all the necessary passenger and cargo vessels.
"There is no such capacity overflow, and there is ample space for visitors, tourists and the normal port flow, with no need to establish limits. The arrival of cruise vessels is not questioned since it is coordinated well in advance, of the calling of vessels, sometimes up to three seasons ahead," pointed out Querciali.
Furthermore "we are working to continue increasing the capacity and facilities of the Ushuaia port, in coordination with the private sector, provincial and federal authorities" plus the fact that similar planning has been implemented for our local international airports operations".
Later Claudia Fernandez vice president from CAME regretted statements from Werchow saying that info and data the president had mentioned were not true and out of context. "Yes there might be delays at restaurants and pharmacies, but it is high season and this situation is extensive to all of Argentina in these summer months".