"Falklands/Malvinas" expression still a wound, says Bielsa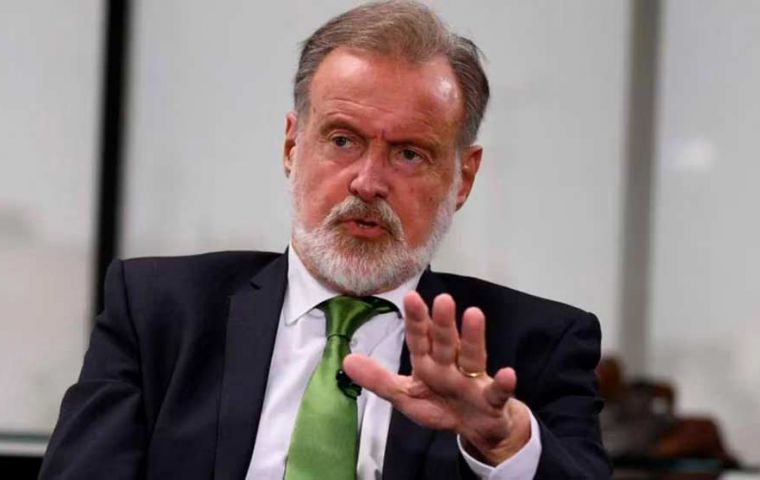 Buenos Aires' Ambassador to Chile Rafael Bielsa said "nothing relevant happened" after his appearance before the Chilean Senate's Foreign Affairs Committee. The former Foreign Minister also stressed the expression "Falklands/Malvinas" was a wound for all of Argentina.
Chilean media had accused Bielsa of meddling in internal matters for his remarks regarding last Wednesday's announcement in Santiago canceling the Dominga iron and copper mining project 16 kilometers from the commune of La Higuera, in the northern region of Coquimbo, and near the environmentally-pivotal Humboldt Archipelago where penguins live.
Bielsa expressed his discomfort for not being told in advance of such a decision because the US$ 2.5 billion undertaking was linked to strategic arrangements regarding trans-Andes crossings between the two countries since it also included a port. The ambassador told the Senators about "the convenience of a smooth and frank communication of the decisions, positions, and interests that both countries have in the different matters that make up the common agenda" and "far from any intention of interfering in Chile's internal affairs."
Committee Chairman Senator Jaime Quintana concurred with Bielsa's view: "The meeting with the Argentine ambassador was in a tone of maximum frankness, as relations between countries that have such close and historical ties should be; and to which President Gabriel Boric has also contributed with his first State visit, which was precisely to that country. Therefore, it does not seem to me that Ambassador Bielsa's statements interfere in internal politics at all."
Also discussed at the gathering were issues such as congestion at border crossings, gas supply from Argentina to Chile, and investments or improvements to the mountain crossings of Agua Negra, Pehuenche, and San Francisco.
Bielsa explained that the Dominga project's seashore facilities were "one of the alternatives that Agua Negra had as an exit port" and that port not being built "means that it will no longer be an alternative for Agua Negra."
The former Foreign Minister said most controversies were with Chilean media and not with local politicians and insisted that if a newspaper refers to the Malvinas as Falkland "I will let them know."
Bielsa underlined that the expression "Falkland/Malvinas" was a "wound for all of Argentina" and said he also felt hurt when local media referred to Argentine Vicepresident Cristina Fernández de Kirchner as "chorra" (slang for thief).
Disrespecting Argentine governments is commonplace among Chilean outlets, Bielsa insisted.
///