Lula sacks Army chief over reluctance to sanction Bolsonarist officers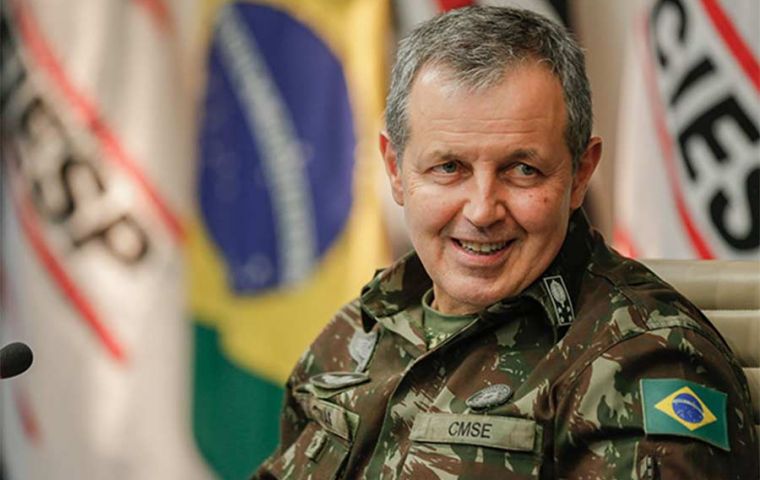 Brazilian President Luiz Inácio Lula Da Silva Saturday dismissed Army Chief-of-Staff General Julio César de Arruda over his alleged reluctance to apply disciplinary measures against officers loyal to Jair Bolsonaro who were involved by action or omission in the Jan. 8 riots in Brasilia.
General Tomás Miguel Ribeiro Paiva, a moderate officer said to be on good terms with the government will be appointed to the position.
During a meeting on Friday with the heads of the three Armed Forces -including Arruda- Lula requested those officers linked to the extremist groups behind the Jan. 8 events be punished regardless of their rank.
Lula also sought to reverse the political involvement of the military, extremely close to former President Bolsonaro, a retired Army captain himself.
Arruda had been appointed on an interim basis on Dec. 30 when Bolsonaro was still President and was later confirmed under Lula during the first week of January.
After the Jan. 8 attack, Arruda prevented a military police deployment onto the rioters' camp in front of the Army barracks in Brasília, according to Estadao.
Lula had been irritated by the general's stance but it was feared that his sacking would deepen the crisis with the military. Arruda also refused to reverse the appointment of Lieutenant Colonel Mauro Cesar Barbosa Cid as chief of an Army battalion in Goiana, it was reported. Barbosa Cid is a known Bolsonaro supporter. Lula has already dismissed over a hundred officers assigned to the Planalto Palace and the Alborada presidential residence.
According to an investigation by the website Metrópoles, there was an ongoing Supreme Federal Court (STF) inquiry into obscure financial transactions involving Cid on behalf of Bolsonaro and his wife.
"We will continue to guarantee our democracy because democracy presupposes freedom and individual and public guarantees. And it is the regime of the people, of alternation in power. It is the vote. And, when we vote, we have to respect the result of the ballot box," Ribero Paiva was quoted as saying by Estadao. He is known to Vice-President Geraldo Alckmin and has been an assistant to former President Fernando Henrique Cardoso, Alckmin's former political boss. But he has also worked under former Army Chief Eduardo Villas Bôas, who was known to have heralded a catastrophic destiny for Brazil in case Lula won.