Chilean FM denigrates Ambassador Bielsa in private meeting audio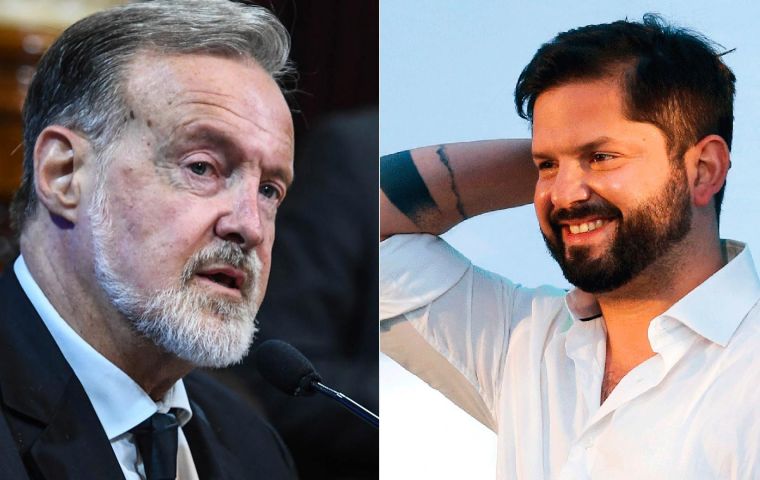 Chilean Foreign Minister Antonia Urrejola's denigration of Argentine Ambassador Rafael Bielsa sparked additional controversy to the case that shook Santiago's diplomatic circles last week. An audio was leaked of Urrejola using foul language to describe the foreign diplomat.
Urrejola, who was in Buenos Aires Tuesday alongside President Gabriel Boric Font during the VII Summit of the Community of Latin American and Caribbean States (Celac) called Bielsa "an asshole" during an informal talk with Foreign Ministry officials while discussing the incident following the Buenos Aires envoy's objections after being kept in the dark about Chile's decision to reject a mining and port megaproject that threatened a unique natural reserve in the world.
Read also: https://en.mercopress.com/2023/01/22/falklands-malvinas-expression-still-a-wound-says-bielsa )
"Enough, this asshole, he does what he wants when he feels like it, and the explanation is that he's crazy?" Urrejola said.
Before flying back to Santiago, she admitted that she had no idea that the conversation was being recorded and also said that she found out about the incident in the middle of the Celac meeting.
"Today I had a conversation with the Foreign Minister (of Argentina, Santiago Cafiero); he told me that it is an occupational hazard and that relations are very good and we are working on the bilateral cabinet to be held this year", explained Urrejola while insisting that both Bielsa's statements and the controversy over the audio were "behind" and had not tarnished bilateral ties.
The leak triggered a series of reactions from the Chilean right-wing opposition, who are calling for Urrejola's appearance before Congress and also suggested she should resign. "I am not going to resign but, like all ministers, we are in our positions because we have the confidence of the president," she stressed.
The mining "undertaking was one of the alternatives that Agua Negra was going to have as a port. It would be great for us to be notified, nothing more than that. As it has an impact on bilateral relations, we wanted to be informed," Bielsa told Chile's Congress, after which he was also summoned by Urrejola's department.
The controversial Dominga project, of the Andes Iron company, included a mine and a port with an investment of over US$ 2.5 billion in the northern region of Coquimbo. Agua Negra is a border crossing through the Andes between the Argentinean province of San Juan and the Chilean province of Elqui.
According to Chilean media quoting Urrejola, the person leaking the audio has been discovered. That person has already resigned from the Foreign Ministry.
"My role is to be able to strengthen and improve the bilateral relationship; I want to give you the certainty that this bilateral relationship is very good, as it has been since the beginning of President Boric. We have a very strong agenda with Argentina, and that agenda continues (...) What happened is not tarnishing, under any pretext, our relations," Urrejola stressed.