"Comrade" Ralph Gonsalves becomes new Celac pro tempore president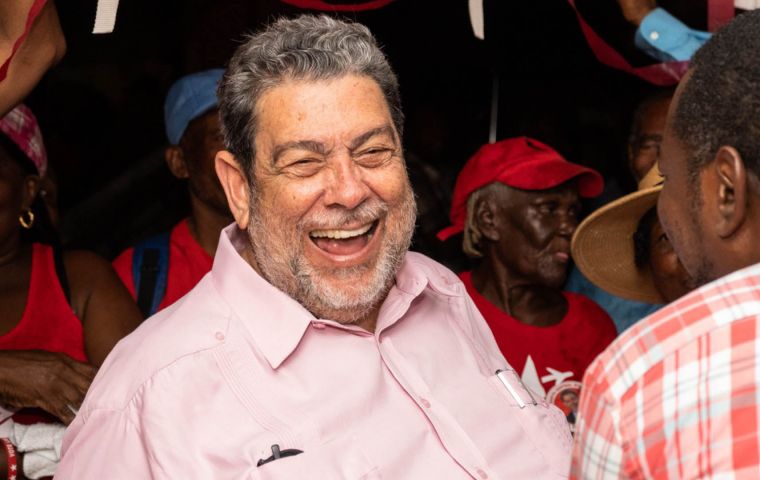 Upon closing the VII Summit of the Community of Latin American and Caribbean States (Celac) in Buenos Aires, Argentine President Alberto Fernández Tuesday handed over the pro tempore presidency of the forum to the Prime Minister of St. Vincent and the Grenadines, Ralph Everard Gonsalves, who is notorious for his closeness to the governments of Cuba, Venezuela and also Nicaragua.
"The challenge next year is to work with the European Union" in a summit to be held next June, Fernández told Gonsalves, after which he thanked "each country that is part of Celac for the support throughout" his year at the helm of the 33-nation group.
Fernández also thanked President Luiz Inácio Lula Da Silva "for having brought Brazil [back] to Celac, where it should have always been."
"That a small country presides over Celac, and to be elected by my colleagues, is very important," Gonsalves said after taking over his new duties.
Prime Minister Gonsalves, 76, has a Marxist background and is known in Cuba as "mini Castro." He is also referred to as "Comrade Ralph" in his own country, where he has ruled since 2001, being reelected four times. He has become the first Caribbean leader ever to head the 33-nation alliance. His appointment shows the left's grip of Celac.
Gonsalves leads the Labor Unity Party of the island state of St. Vincent and the Grenadines, a parliamentary monarchy that is part of the British Commonwealth of Nations.
According to media reports, Gonsalves was key to Fernández's being elected last year when some countries such as Nicaragua were already voting for him but changed their minds. The appointment of the Caribbean premier was also sealed by Brazil and Mexico. It also takes the burden off Fernández to focus this year on relaunching the Union of Southern Nations (Unasur) together with Lula.
Gonsalves has a degree in Economics and has written several books in which he expresses his deep anti-imperialist ideology. His son Camillo, aged 50, is the current Economy Minister and many believe Comrade Ralph is to turn him into his successor.
St. Vincent and the Grenadines depends heavily on its close relationship with Cuba, Venezuela, and Nicaragua. Gonsalves was the only foreign head of government to attend the celebrations in Managua of the 43rd anniversary of the Sandinista revolution. Venezuelan President Nicolás Maduro recently wrote off the island's debt of US$70 million, in addition to supplying large amounts of oil at a discount price.