Operation Austral Endurance delivers fuel drums by parachute from Falklands' MPC to BAS in Antarctica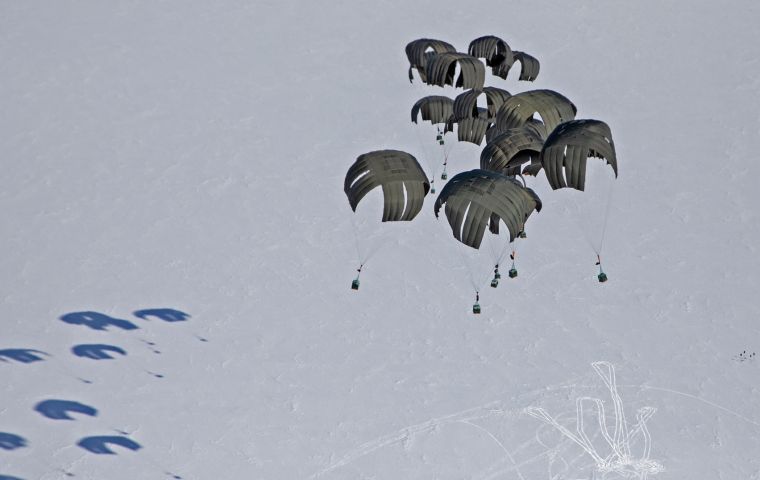 A Royal Air Force A400M Atlas aircraft has delivered vital fuel supplies to the British Antarctic Survey after taking off from the Falkland Islands Mount Pleasant Complex. The RAF said the range of the Atlas was extended by air-to-air refueling from a Royal Air Force Voyager, as part of Operation Austral Endurance..
"The mission has demonstrated the strength of partnership across government and the global reach of RAF Air Mobility," the RAF said.
Air Commodore John Lyle, Commander of the Air Mobility Force, said: "This is the culmination of significant work across the Air Mobility Force and with our personnel in the Falkland Islands (@BFSouthAtlantic) to deliver vital support in a very challenging environment.
"Excellent work all round #RAFAirMobility."
Group Captain Gareth Burdett, who commands the flying squadrons and Airborne Delivery Wing of the Air Mobility Force, said: "This is what global air mobility looks like. Great teamwork from 905EAW, 47AD Sqn, the Atlas sqns and @BAS_News."
The British Antarctic Survey provides research infrastructure that enables global scientists to operate effectively and safely in the polar regions.
The week-long operation saw the Atlas A400M travel 1500 miles south to deliver the supplies, 300 fuel drums air dropped into Antarctica by parachute.
The aircraft is being flown by aircrew from 24, 30, LXX and 47 (AD) Sqns, both temporarily based at Mount Pleasant Complex and working as part of 1312 flt whilst here. (Forces Net)