UK Prime Minister celebrates Scottish culture in Burns Night Downing Street reception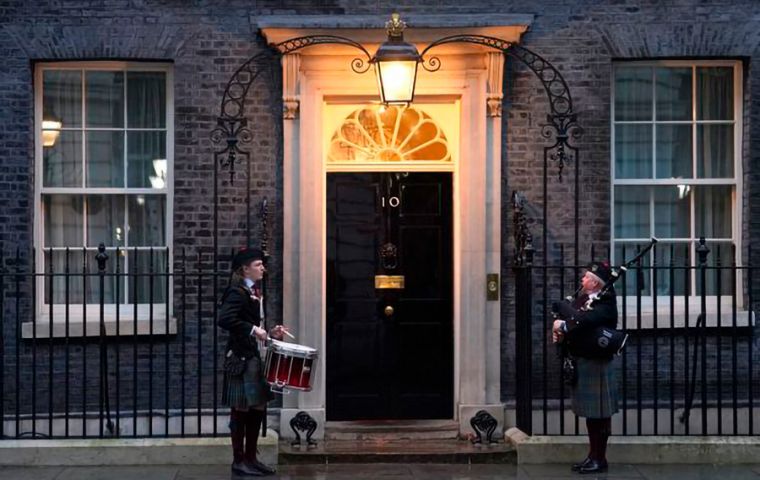 British Prime Minister Rishi Sunak is expected to celebrate Scottish culture this evening by hosting a reception in Downing Street to celebrate Burns Night. Guests, including faith group leaders, will be welcomed to the event with sounds of traditional bagpipes and drums, and will be able to enjoy Scottish cuisine from stalls in an indoor-street market.
Deeney's famous haggis toasties and Rapscallion's fresh fruit sodas are going to be on offer, and there will be a range of other businesses showcased as part of the event.
Deeney's was set up by Carol and Paddy at a market in East London in the summer of 2012. Inspired by Carol's Scottish roots, it has been a mainstay of London's street food scene ever since, partly thanks to their famous 'Macbeth' haggis toastie, and they now have restaurants in both London and Tokyo.
Glasgow-based Rapscallion Soda was born in 2016 and has built a reputation for its inventive exotic flavours using raw ingredients, such as Burnt Lemon, Dry Lime and Rhubarb.
Those in attendance are also expected to be offered a dram of the Isle of Raasay Distillery's finest. Founded in 2017, the Inner Hebrides island's first legal distillery produces both whisky and gin in its contribution to Scotland's drinks exports, worth £4.2. billion in total in 2021.
It is expected that the Prime Minister will also briefly chat to fashion designer Siobhan Mackenzie about her innovative work reinventing tartan classics such as kilts, tailoring and accessories into contemporary styles.
As is tradition, it is anticipated that Hugh McMillan, member of the Scottish Poetry Library, will recite Robert Burns' A Man's a Man for a' That, as well as a selection of other poetry.
As part of the celebrations, the Prime Minister will take the opportunity to personally award Mr Khalid Raza, founder of the charity Wheels to Heal with a Points of Light award.
It will be the UK's 1974th Points of Light award, recognizing the outstanding contribution Mr Raza has made to both his own community and countless others across the world. After discovering 150 wheelchairs by chance in a landfill, Raza created Wheels to Heal – a volunteering network which gives people access to wheelchairs and mobility aids. Since its inception in 2015, the charity has funded and rescued 6,500 wheelchairs from landfill and 5,500 mobility aids from care homes, delivering them across the globe.
A Burns supper is a celebration of the life and poetry of the poet Robert Burns, the author of many Scots poems. The suppers are normally held on or near the poet's birthday, 25 January, known as Burns Night.