Federal Court of Appeals okays Mar del Plata offshore oil exploration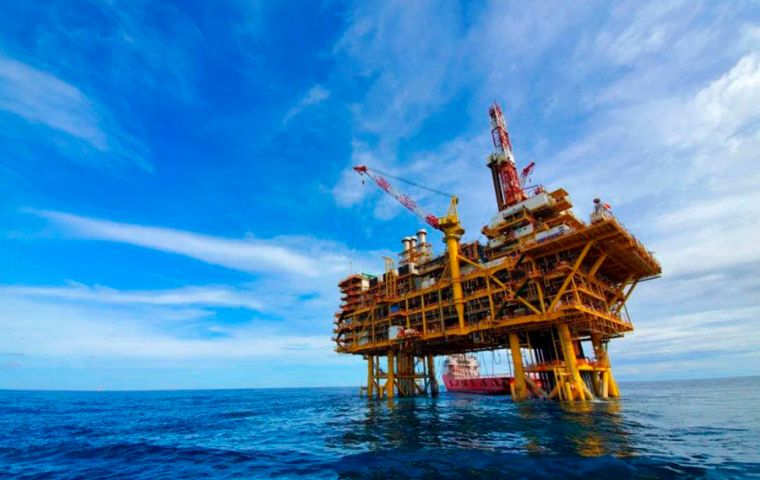 The Federal Court of Appeals of Mar del Plata turned down an appeal filed by Mayor Guillermo Montenegro and various environmental organizations to cancel the offshore oil exploration project involving YPF, Equinor, and Shell. The undertaking is expected to yield some US$ 20 billion in exports annually.
Exploration must be carried out under specific conditions set forth by the lower court's ruling, which provided for the protection of biodiversity areas. Activities must also be suspended at once in the event that significant damage to the environment is verified. Permanent observers are to be appointed and authorities will enforce a maximum level of control. The exploratory project by Equinor, YPF, and Shell, is to operate more than 300 kilometers off the coast.
The Court of Appeals filed the petition to stop the project as "inadmissible." It had been submitted on Dec. 22, 2022, and a reply was delivered during the January judiciary recess when only the most urgent cases are dealt with.
Early last month, the same higher court had lifted an injunction that had stopped the exploration of hydrocarbons in the sea citing possible consequences to the environment, despite which a new appeal was filed, which was rejected by Justices Eduardo Jiménez and Bernardo Bibel, who found that the plaintiffs are not deprived of their right to still defend their interests within the legal system.
The current preliminary studies pose little danger to the biosphere, it was explained. The project is already a little more than three months behind schedule. The companies had contracted the BGP Prospector vessel to carry out the exploratory work in November last year but by the time it reached Uruguayan waters it headed back due to the judiciary measures.
"We celebrate this great news for the country. It is estimated that this offshore project could reach a production volume of 200,000 barrels per day, 35% of Argentina's current production. Undoubtedly, a before and after for the development and growth of our country," National Secretary of Energy, Flavia Royon, wrote on Twitter about the latest ruling.