Boric and Scholz review human rights and clean energy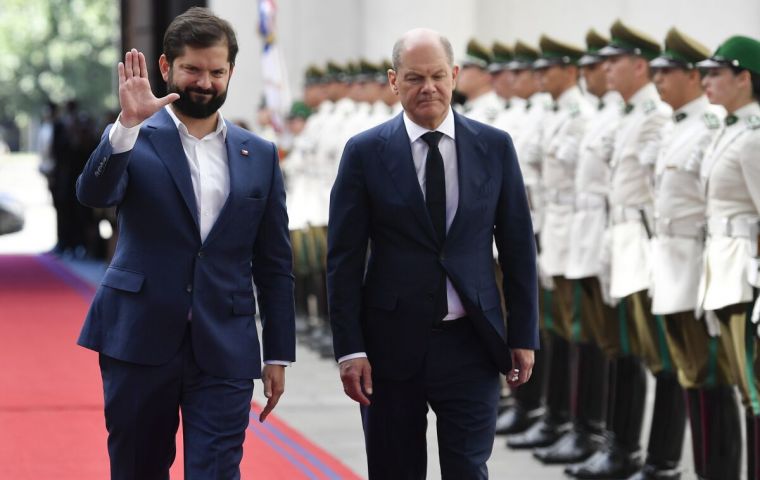 German Chancellor Olaf Scholz arrived in Santiago this past weekend from Argentina and met with Chilean President Gabriel Boric Font at the La Moneda Palace. Both leaders discussed bilateral issues in what was their second encounter after the one in September last in New York during the 77th UN General Assembly.
On the occasion of Scholz's visit to the South American country, various cooperation agreements were signed in areas such as technology, innovation, mining training, environment, circular economy, and energy. There was a joint declaration of intent on bilateral cooperation in research, development, and innovation, which was signed by the Parliamentary Undersecretary in the Federal Ministry of Economics and Climate Protection of the Federal Republic of Germany, Franziska Brantner, and the Vice-President of the Production Development Corporation (Corfo), José Miguel Benavente. Then, a memorandum of understanding was signed between the state-run Corporación Nacional del Cobre de Chile (Codelco) and the German company Aurubis AG.
"Chile and Germany have a work that is shared. The inclusion of Chile in Chancellor Scholz's first Latin American tour, where he will be visiting three countries, is a reflection of the close friendship that unites Germany and our country, and also of the reciprocal interest we have. They are two States that share values that cannot be renounced, such as the defense of freedom and democracy, the rule of law, and the promotion and protection of human rights," Boric said.
The President also underlined that the meeting served to strengthen ties between both governments, setting agendas "on such important issues as the transition to cleaner energy, taking advantage of the tremendous potential we have in our country for the development of different industries and jointly facing the climate crisis at a multilateral level."
"Today we can do a lot to deepen Germany's presence in our country. According to the Central Bank, the current amount of German investment exceeds one billion dollars, and we have a tremendous potential to continue growing, not only in the exchange in numerical terms but also by creating value chains, transferring technology, and benefiting the localities where these industrial complexes are developed," he added.
Boric also thanked Scholz for the invitation to become a member of the Climate Club, a space promoted by the German head of government to discuss the climate crisis. The club includes all G7 nations plus some G20 countries, in addition to other international organizations.
Scholz appreciated the cooperation agreements on climate and highlighted Chile's progress in renewable energies, such as the start-up of hydrogen production in the southern territory.
"In the extreme south of Chile, hydrogen is generated from wind energy. The German Federal Government has been promoting this project, and for ten years there has been cooperation in mining and natural resources between Chile and Germany. German companies have a great interest in increasing this cooperation, especially in the field of lithium, and we want to support Chile on its way to sustainable mining," he said.
Chile and Latin America have not been a priority of German foreign policy in recent years, but Scholz - in office since December 2021 - seeks to deepen political and economic ties with the region at a time when Germany is suffering the impact of the war in Ukraine. Since the fall of the Berlin Wall, there have only been three visits by German Chancellors to Chile: Helmut Kohl (1991), Angela Merkel (2013), and now Scholz.
The two leaders also discussed the sensitive issue of the former Colonia Dignidad, a clandestine detention camp from the Augusto Pinochet dictatorship years, which was run by the German-born Paul Schäfer.
Colonia Dignidad, almost 400 kilometers south of Santiago, was founded by the Lutheran Preacher Schäfer, who had also earned himself a reputation as a child abuser. Schäfer subjected more than 300 people to forced labor, punishment, mental manipulation, and, in some cases, sexual abuse, many of whom followed him to Chile from Germany.
Under Pinochet (1973-1990), the facility also served as a torture center for the National Intelligence Directorate (DINA), Pinochet's secret police. It is estimated that over 100 people were murdered there.
Regarding the creation of a Memory Museum where Colonia Dignidad once was, Scholz said: "It is clear that, as partners of the government, we want to provide support. We know that this is a sensitive issue, there are different groups affected, [and] it is not easy to find a solution, so with all prudence we want to offer our support and do what we can do. These are processes that must be decided in the country, we are a partner in this context."
Boric replied: "We fully support and appreciate the will of the German government to contribute to the search for the truth, and to make the former Colonia Dignidad a space of memory, and it is a role of the Chilean State in all its dimension to continue fighting tirelessly for all truth and justice, that is also the line with which we move and what inspires our government."
"And it is not superfluous to remember it, the support it had from an important part of a sector of Chilean politics, some of which are still in public scrutiny," he also said.
Human rights organizations accuse both Chile and Germany of not sufficiently prosecuting the crimes committed in Colonia Dignidad, now renamed Villa Baviera.