Falkland Islands included in the Bradt Travel Guide 2023 of Exceptional Trips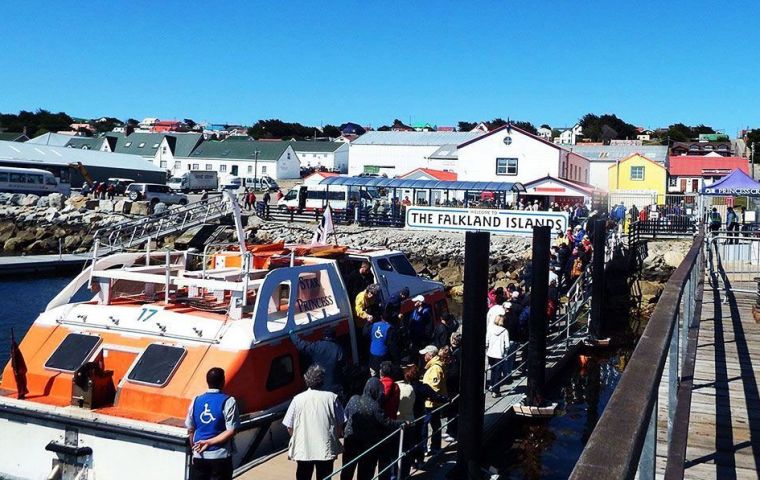 Elation in the Falkland Islands. Bradt Travel Guides has included the South Atlantic British Overseas Territory, as well as Chilean Patagonia as one of several best places to visit in 2023.
Bradt Travel Guides is a publisher of travel guides founded in 1974 by Hilary Bradt and her husband George, who co-wrote the first Bradt Guide on a river barge on a tributary of the Amazon.
Since then Bradt has grown into a leading independent travel publisher, with growth particularly in the last decade. It has a reputation for tackling destinations overlooked by other guide book publishers. Furthermore, nearly two-thirds of the guides on the publisher's list have no direct competition in English from other travel publishers.
These include guides to parts of Asia, Latin America and Africa, which traditionally have not been widely covered by guidebook publishers, or do not have a long history of tourism.
"Every winter, we put our heads together to select our top trip picks for the year ahead. It's a list that attracts a lot of attention, so the responsibility weighs heavily! But we think we've succeeded in compiling a diverse group of places to satisfy the most discerning of travelers in 2023," points out the suggestion list of best place to visit this year.
When it comes to the Americas it includes the Falkland Islands, Chilean Patagonia, Costa Rica, Guyana and Sta Lucia in the Caribbean, with an outstanding "Enjoy the hospitality of the Falkland Islands"
How much do you really know about the Falkland Islands? Take the time this year to find out more. This archipelago consists of two main islands, East and West, and more than 740 smaller islands which range from surf-dashed rocks to 40,000-acre farms.
Overlooked by so many, the Falklands offer rich history, natural beauty and unbeatable wildlife.
Imagine a place so far from the beaten track that you have miles of beaches all to yourself. Only the call of the birds breaks the silence.
Try your hand at wildlife photography among the 750,000 or so penguins. Hike or fish or spend the day exploring the range of historical heritage sites found scattered across the islands.
You will always feel welcome on a trip to the Falklands. Accommodation here is personal, with almost all places being owner-run. Whether you choose to stay in a hotel, lodge or guesthouse, you will instantly be made to feel part of Falklands life.
How to do it
Situated in the South Atlantic Ocean, the Falkland Islands are fast-becoming a popular travel destination. You can find out more about what to see and do on the Falkland Islands Tourist Board website