"Bregret", the new word to express regret for voting Britain lo leave the EU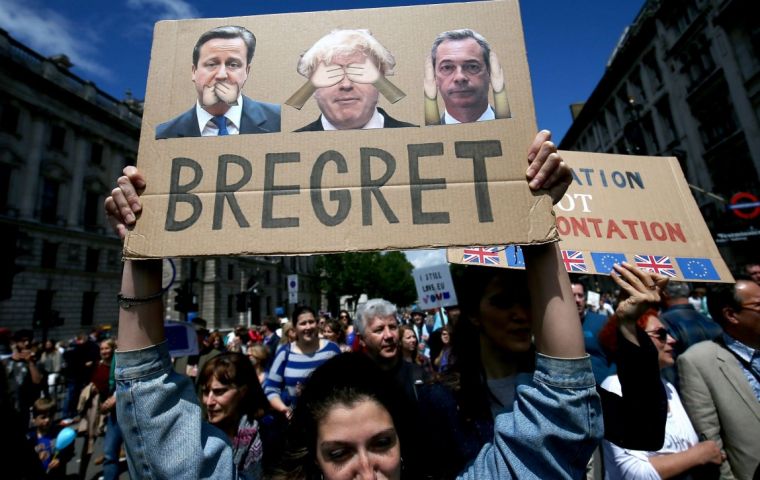 Like Brexit a few years ago, popular vocabulary in UK has incorporated "Bregret", basically meaning "regretting the decision to vote for Britain leaving the European Union". And one of the latest opinion polls indicates a dramatic shift in the UK as to such a momentous vote. The poll, by Focaldata and taking in 10,000 people across the country, asked respondents whether they agreed or disagreed with the statement, "Britain was wrong to leave the EU".
Focaldata estimates that in every constituency in Britain (the poll does not include Northern Ireland) except three, more people agree with the statement than disagree — that is, tend to think that Brexit was a mistake. The only three outliers are all located along the Wash in Lincolnshire: Louth and Horncastle, Boston and Skegness and South Holland and the Deepings. And two of these are actually tied in terms of whether people thought Brexit was wrong or not – Boston and Skegness, at 41%-37% is the only place in the country where a majority still believe leaving the EU was the right thing to do.
And it's not as if this poll can be dismissed as an exception. Earlier this month a poll for the Independent found that almost two thirds of Britons would now support a referendum on rejoining the EU. YouGov's tracking question – were we right or wrong to leave the EU? – is trending strongly towards the latter. For the past year those saying "wrong" have comfortably outnumbered those saying "right". The latest figures report the biggest gap yet, 56% to 32%. One in five of those who voted Leave six years ago – more than 3 million people – say the decision was the wrong one.
Such polls will add pressure to Labor leader Keir Starmer who, as much as he ever mentions Brexit, it is to utter clearly disprovable statements he almost certainly doesn't believe himself, such as that rejoining the single market would not boost UK economic growth. Shadow Leveling-up secretary Lisa Nandy has dismissed the idea of rejoining the EU as "fantasy".
Likewise ne economic forecasts also spell potential long-term trouble in the UK as a result of Brexit. The grim news comes on the heels of a leaked government report suggesting that Hunt and Prime Minister Rishi Sunak may seek a "Swiss-style" partnership with Brussels.
When Hunt announced an austere new budget last week he claimed it would help the UK "forge a different economy outside the European Union — high skill, high wage, the world's next Silicon Valley, and with our own regulations."
But Hunt who voted against Brexit in 2016, denied having leaked the report but said the UK had to invest in skills if it wanted to tackle immigration.