Four key suspects in Haitian president's murder extradited to US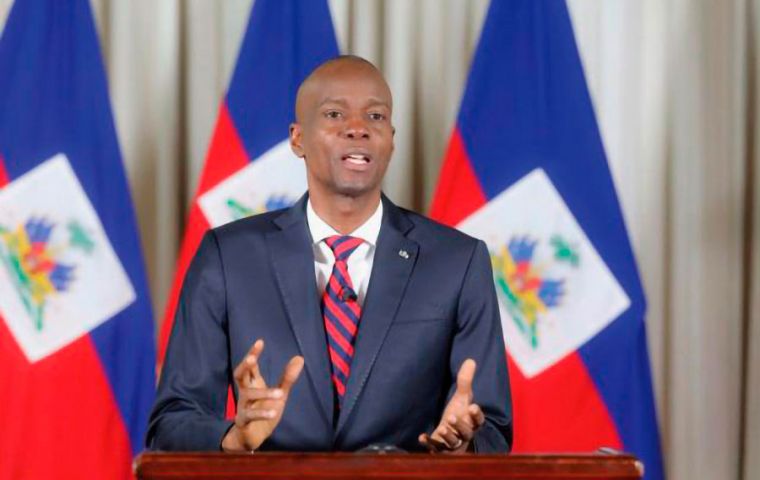 Four suspects of the July 7, 2021, slaying of Haitian President Jovenel Moïse were flown to the United States Tuesday to stand trial, the US Department of Justice announced.
Colombian national German Alejandro Rivera Garcia and dual Haitian-American citizens James Solages and Joseph Vincent are charged with "conspiring to commit murder or kidnapping outside the United States and providing material support and resources resulting in death," the Department said in a statement.
A third Haitian-American, Dr. Christian Emmanuel Sanon, was accused of "conspiring to smuggle goods from the United States and cause export information not to be filed."
The four suspects join three other men who have spent months in a Florida prison to account for their alleged role in the plot against Moïse.
There are nearly two dozen former Colombian elite troops charged in the case for their participation in the hit squad that stormed Moïse's home.
The DoJ claims that in early 2021, some of the suspects met in South Florida to discuss their plans to carry out a "regime change" in Haiti by toppling Moïse and replacing him with Sanon. Authorities believe Sanon, an elderly pastor, doctor, and failed businessman was duped by the real — and still unidentified — masterminds behind the plot.
Prosecutors say the suspects then plotted to acquire the "equipment and weapons needed for the regime change operation," including "rifles, machine guns, tear gas, grenades, ammunition, bulletproof vests, and other weapons and equipment." Court documents state that exactly two months before Moïse was killed, Vincent texted Solages a video of a cat "reacting alertly" to the sound of gunfire and that Solages laughed, prompting Vincent to respond, "That's the way Jovenel will be pretty much, but [sooner] if you guys [are] really up to it!"
According to US authorities, Sanon "conspired with others to ship 20 ballistic vests for use by his private military forces from South Florida to Haiti on June 10, 2021."
Weeks later, the DoJ claims that "support for President Moïse's replacement shifted" from Sanon to a former Haitian Supreme Court judge who would have "signed a document requesting assistance to further the arrest and imprisonment of President Moïse" as well as "a document purportedly signed by that Judge claimed to provide immunity in Haiti to those who participated in the operation."
Finally, on July 6, "Solages, Vincent, Rivera, and others met at a house near President Moïse's residence, where firearms and equipment were distributed and Solages announced that the mission was to kill President Moïse," according to the prosecution.
The next day, Moïse was beaten severely and shot multiple times at his residence. Some 20 former Colombian soldiers were recruited to supposedly help arrest the president and protect Sanon, who envisioned himself as Haiti's new leader. Rivera was in charge of that group, the documents state. A day before the killing, Solages falsely told other suspects that it was a CIA operation and that the mission was to kill the president, according to the documents. Shortly before the killing, authorities said, Solages shouted that it was allegedly a DEA operation to ensure compliance from the president's security team.
A total of seven suspects in the case are now in US custody while dozens of others still remain in a Haiti prison severely overcrowded and often lacking food and water for inmates, according to the Voice of America.