RRS Sir David Attenborough begins its polar science trials in Antarctica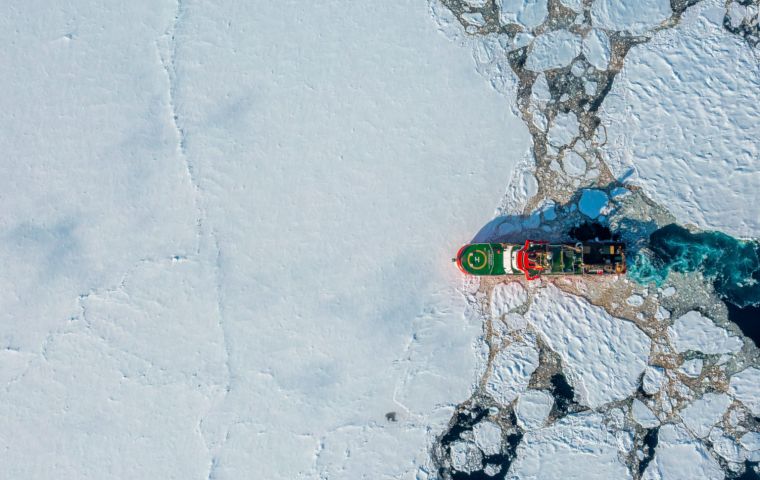 Falklands flagged UK's new polar ship RRS Sir David Attenborough begins its polar science trials in Antarctica this week. A team of 30 national and international scientists, engineers and technical staff departed the Falkland Islands on Tuesday for almost two months of science capability trials – the first to test the ship's science capabilities in deep polar waters.
The team will run a range of scientific equipment and systems, several for the first time to test equipment covering physical oceanography, chemistry, and marine biology. They will also work collaboratively to test out the large laboratory facilities to do multidisciplinary research.
The Falkland Islands flagged state of the art icebreaker has been operating in and around Antarctica since December, delivering key personnel and cargo to British Antarctic Survey's research stations. As part of getting the ship fully operational for science, these trials will allow the team on board to use science equipment for the first time around Antarctica.
Dr Sophie Fielding, Science Capability Coordinator for RRS Sir David Attenborough, is co-leading the polar science trials. She says: "This is a really exciting milestone moment for the ship. It's our chance to work collaboratively with scientists, engineers, technicians and ship's crew to test all the new and exciting science capability we have. There are winches that will allow us to sample animals that live on the sea floor, deeper than we're ever done before and new equipment to enable us to sample trace metals in the ocean using a dedicated clean chemistry system.
"We are carrying out these trials to test all science equipment and or systems to make sure they all work successfully, and we're looking forward to putting the ship's science capability through its paces and doing some cutting edge science at the same time."
Dr Yvonne Firing from National Oceanography Centre is on board for the polar science trials and stated, "It is exciting to be on the new ship, and to be able to contribute to its first measurements of Southern Ocean temperature, salinity, and currents. I'm looking forward to working with everyone on board to prepare the RRS Sir David Attenborough to be a great platform for oceanography, one that complements the rest of the UK research fleet and extends our capability to make climate-quality measurements and new discoveries to the polar oceans again."
Dr Amber Annett is from University of Southampton. She is part of the team on board and explained: "This ship is a fantastic resource for the UK polar community. My NERC-funded research project RaCE:TraX brings together scientists from the UK and abroad to study the supply of iron to the ocean. This essential micronutrient limits marine productivity in large areas of the Southern Ocean, so better understanding how it is supplied to this region will help us predict how the marine ecosystems and carbon drawdown will respond to the changing ocean as the climate warms. Our work will set up and test the world-class clean chemistry facilities of the RRS Sir David Attenborough, which are a great asset for the marine science community."
British Antarctic Survey (BAS) operates Falklands' flagged RRS Sir David Attenborough, which is owned by UKRI-NERC. It provides a platform for the UK polar community to do research in the Polar Regions.
The trials are another critical milestone in the commissioning of the ship. Prior to these, the ship completed science capability trials around the UK and ice trials in Antarctica during the 2021/22 field season.
The ship is expected to spend around seven weeks testing its science capability around the Antarctic Peninsula as well as deploying a mooring in the Weddell Sea and transporting personnel between stations.
The team will test and use a wide range of the SDA's science equipment for the first time in polar waters. This includes:
• CTD package (which measures conductivity, depth and temperature) deployments, both stainless steel and titanium (clean chemistry)
• deploying a multi-corer to collect sediment cores
• equipment deployed at depth to collect deep sea animals (much deeper than previously done by BAS on its ships)
• deployment of a mooring in the Weddell Sea to collect oceanographic data (for Piccolo science project)
• deployment of a sediment trap mooring west of Signy to collect sinking organic matter and measure carbon export (for BIOPOLE project)
• deployment of Argo floats including two new enhanced biogeochemical floats, which profile through the water collecting ocean properties such as temperature, salinity (for the Met Office) and for new floats pH, chlorophyll and dissolved oxygen (Piccolo science project)
• use of a dedicated clean chemistry system to measure trace metals such as iron and its role in carbon export (Race:Trax project)
RRS Sir David Attenborough has state-of-the-art acoustic instruments that help researchers to visualise features in the water and seabed. For example, the ship is fitted with two multibeam echosounders – instruments which researchers use to map the seafloor – as well as instruments to identify animals in the ocean, such as schools of fish, and collect information about water currents. It also has nine scientific winches, with a combined 61,000m of cable, are used to deploy scientific equipment to investigate the Southern Ocean's unique ecosystems. The ship also has a moon pool – a four-by-four metre hole through the middle of the ship – through which researchers can deploy instruments, even when in ice