"Lula won't last long," Bolsonaro warns
Thursday, February 2nd 2023 - 10:44 UTC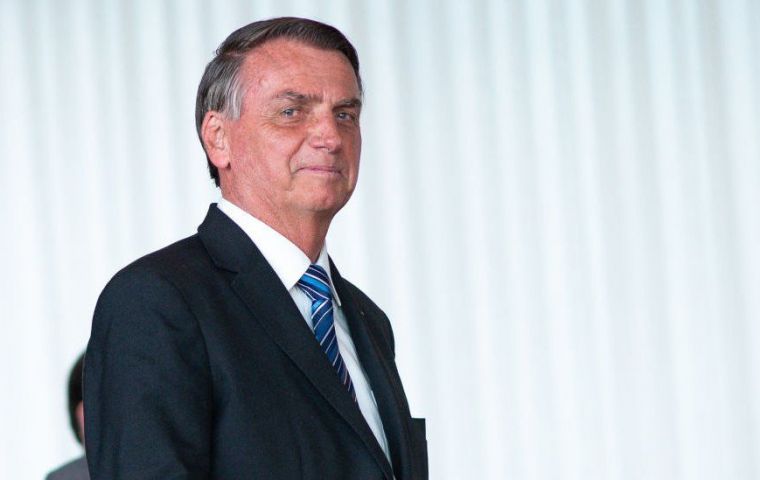 Former Brazilian President Jair Bolsonaro said Wednesday during a speech before a group of his followers in the US State of Florida that the current administration of President Luiz Inàcio Lula da Silva might have its days numbered.
"If Lula continues like this, his government will not last long," said Bolsonaro in what was his first public open appearance since leaving Brazil at the end of 2022 when he was still head of state.
Bolsonaro has applied for a six-month tourist visa to stay in the United States and might not return to Brazil for a while because he might be arrested in connection with one of the several cases in which he is under investigation.
During Wednesday's appearance in Orlando, Bolsonaro promised to remain active in politics but did not say when he will return to his country while insisting on his rejection of the Jan. 8 riots in Brasilia.
"You can be sure, in a short time we will have news. On its own, if this government continues in the line it has shown in these first 30 days, it will not last long," said Bolsonaro about Lula's first month in office.
Regarding his followers storming the headquarters of the three branches of government on Jan. 8, Bolsonaro distanced himself from these events and denied any involvement.
"We regret what some inconsequential people did on January 8. That is not our right. It is not our people. There are many aggrieved people there. That is not terrorism by our legislation. There are people who have to be individualized, invasion, depredation, and each one pays for what they did," he pointed out.
"Those who financed terrorist and anti-democratic acts will be punished with the full force of the law," he added.
"I have been here for 30 days, I intend to stay a while longer. I don't know how much longer. I miss my country very much," Bolsonaro also said.
Regarding his future in politics, Bolsonaro stressed that "I was never as popular as last year. Much more than in 2018. At the end of the day, we are left with a question mark on our heads. I think I left a lot of leaders for Brazil. There are a lot of good people coming to Congress, who were elected to the Executive. There are municipal elections in 2024 ahead, 2024 is very important. We cannot abandon politics. Politics is part of our lives. I am 67 years old and I intend to remain active in Brazilian politics."