WB appoints new country director for Argentina, Paraguay, and Uruguay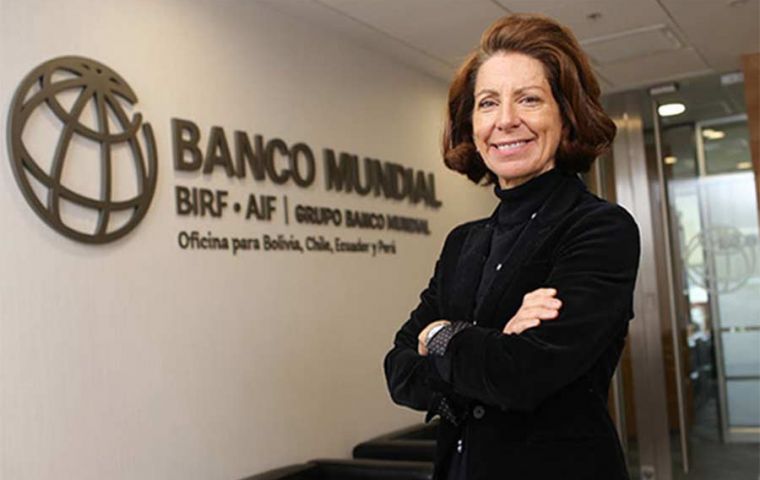 The World Bank (WB) announced this week the appointment of US-French Economist Marianne Fay as its new Director for Argentina, Uruguay, and Paraguay to replace Jordan Schwartz, who will head the Eastern Europe division.
Fay has a background in development issues, specializing in infrastructure, environment, green growth, and the fight against poverty. Prior to her new appointment, she served as country director for Bolivia, Chile, Ecuador, and Peru, in addition to previous assignments in the Sustainable Development Vice Presidency and as a senior economist for the Climate Change Department.
She has also published and edited numerous books and articles, including the World Development Report "Development and Climate Change," the regional study "Infrastructure in Latin America and the Caribbean: Recent Developments and Key Challenges" and the report "Rethinking Infrastructure in Latin America and the Caribbean: Spending Better to Achieve More."
In her most recent writings, Fay discusses how to improve the region's infrastructure and make more efficient use of economic resources. She also stresses the importance of working on cooperative governments.
Regarding Argentina, the WB has 23 operational investment projects with committed credits for a total of US$ 8.5 billion in social, infrastructure, environment, and economic development, in addition to US$ 450 million to be added in 2023 for new projects, together with a credit line for US$ 200 million to provide broadband connectivity to isolated places. The project "Strengthening data infrastructure to bridge the digital divide in Argentina" is to benefit some 350,000 residents of 300 different localities, together with 350,000 public employees and some 15,000 people who will receive training to strengthen their digital skills.
In addition, the World Bank provides technical advice on the main public policy challenges in the country and develops sectoral studies. In fact, at the beginning of the year, the international organization analyzed how inflation will affect economic growth during 2023. The study projected that Argentina will grow 2% this year, conditioned by capital controls and the acceleration of price increases. "The slowdown in growth reflects external headwinds and restrictions to domestic activity related to the high inflationary environment," said the World Bank report. Capital, import, and price controls "will continue to complicate the business environment," the WB warned.