Top Argentine official makes the round of talks and contacts in Spain to complain about Falklands fishing industry
Tuesday, February 7th 2023 - 10:44 UTC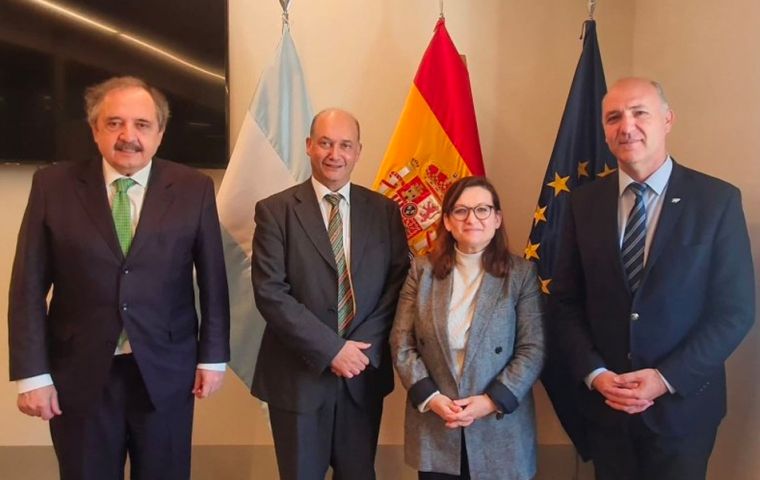 Guillermo Carmona, secretary of the Malvinas, Antarctica and Southern Atlantic Islands held a round of political talks in Spain in the framework of the bi-national cooperation understandings contemplated in the Buenos Aires Declaration from 2021. The document was signed by Argentine president Alberto Fernandez and his Spanish peer Pedro Sánchez and addressed the Argentina/Spain joint strategic action plan 2021/2023 referred to the Falklands/Malvinas and Gibraltar Questions as well as Antarctic and oceans cooperation.
According to the official release from the Argentine foreign ministry, Carmona and the Argentine ambassador in Madrid, Ricardo Alfonsín (the son of former president Ricardo Alfonsin) met with the Foreign Affairs Commission of the Spanish Lower House, in which a majority of Spanish political parties have representatives. During the talks the Malvinas and Gibraltar questions, post Brexit, were considered as well as the presence of Kosovo troops, training with British forces in the Falklands, and the "challenges represented by the illegal fishing in the Malvinas area"
Carmona later met with members of the Spanish Polar Committee where president Raquel Yotti and other members checked on the main milestones of the consolidated Argentine/Spanish scientific cooperation in Antarctica. The two sides recalled the recent meeting of the Convention for the Conservation of Antarctic Marine Living Resources, Subarea 48,3 and coincided in the significance of keeping a scientific and peace focus as preeminent issues. Nevertheless Carmona expressed concern over the geopolitical issues that have emerged in recent CCAMLR meetings. Finally both sides said that combating climate change and preservation of Antarctica environment were paramount as was informing of Argentine/Spanish cooperation in the white continent.
Carmona and ambassador Alfonsin also met with the head of the Ibero-American Desk from the Spanish foreign ministry, Enrique Yturriaga and the head of Spain's Economic Diplomacy policy Ana Esmeralda Martínez, where again "decolonization" of the Falklands/Malvinas and Gibraltar questions was considered as well as Antarctica and oceans cooperation. Carmona mentioned Spanish investments in the Argentine fishing industry but also complained about "illegal fishing" in Malvinas waters, including Spanish vessels with Falklands licenses, contrary to Argentine law, and the overwhelming fleet of vessels operating in the so called Mile 201, adjacent to Argentina's EEZ.
Finally the Argentine delegation had a round of talks with Andres Allamand, Secretary General of the Ibero-American organization which is holding a regional summit next month in Santo Domingo. The Falklands/Malvinas dispute and issues related to Antarctica and oceans were also considered with Allamand, who is Chilean and was foreign minister of this country when the continental shelf dispute with Argentina. Again the Kosovo contingent training at MPA in Falklands was again reported to Allamand.
Last but not least Carmona met with Javier Ruiz Segura, head of the Spanish Oceanography Institute, OEI, to exchange ideas on the Argentine Blue Pampa Initiative, and achievements, as well as cooperation opportunities for scientific marine research.