Launch of 'Looking North: The UK and the Arctic', by Foreign minister Lord Goldsmith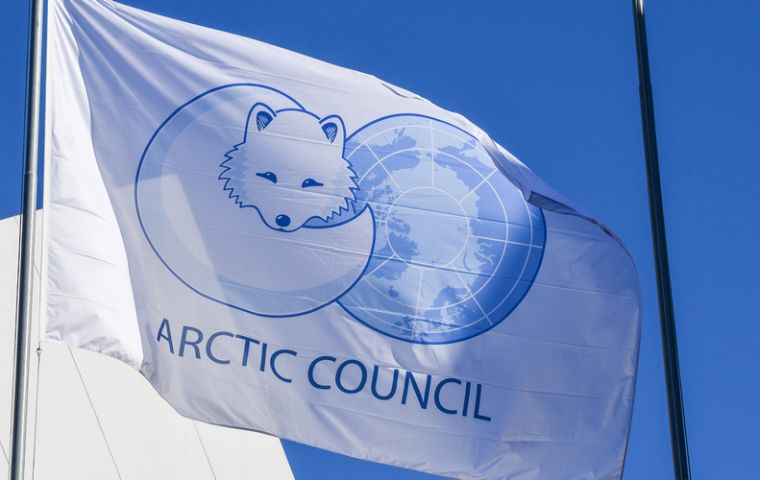 Foreign Office Minister of State responsible for the polar regions, Lord Goldsmith, gave a keynote speech to launch the UK's new Arctic policy framework:
Good morning and thank for joining us for the launch of "Looking North", the UK government's new Arctic Policy Framework.
We have drafted it through engagement with our Arctic partners, for which I offer our sincere thanks. Thanks also to colleagues across government from other departments for their valued contributions.
Throughout this document we reaffirm our commitment to the Arctic region. Of course, the UK is not an Arctic state, but the Arctic is absolutely critical to our interests, because our climate, weather and biodiversity are all inextricably linked.
The UK government produced its first Arctic policy framework in 2013. And in that, we affirmed 'respect, cooperation and appropriate leadership' as the guiding principles of the approach that the UK takes in the region. And those principles absolutely remain true today.
In 'Looking North', we have adapted our approach in response to the evolving influences on the Arctic.
The region is at the mercy of ever shifting forces, increasingly buffeted by climate, environmental and also geopolitical headwinds. So I am going to briefly talk you through some of the key security, environmental and economic challenges, and how the UK is addressing them through our expertise and partnerships.
Security. First of all, security. While it remains our strategic aspiration for the Arctic to be an area of high cooperation and low tension, clearly that vision is at risk. Melting sea ice has provided greater accessibility to a wider range of players. And Russia's invasion of Ukraine has undermined the stability of its entire neighborhood.
The UK government is committed to working to ensure that the Arctic remains secure and peaceful. We have strong relationships with almost every one of the Arctic states. And through NATO, the Joint Expeditionary Force, the Northern Group, and through the Arctic Security Forces Roundtable, we have intensified work with our partners to preserve stability and security across the region.
Last year we publicly set out the UK's Defence Contribution in the High North, in a paper of the same name. And we set out our readiness to protect, and where appropriate, assert our rights, against those who wish to challenge the international order, threaten the stability of the region, or restrict freedom of navigation.
We are the nearest neighbour to the Arctic, and so regional security is central to our own security as well.
Climate change and the environment. Secondly, climate change. Without doubt, climate change poses the clearest and most significant existential threat to the Arctic as we currently know it.
In 2021, the Arctic Monitoring and Assessment Program reported that Arctic temperatures are increasing 3 times faster than the global average. A new study last year raised this to 4 times faster than the global average.
And we know that warming temperatures have profound implications for the people who live in the Arctic, for biodiversity, and for the whole world.
Climate change is devastating Arctic ecosystems and communities. Sea ice and the Greenland ice sheet are rapidly melting. Permafrost is thawing. And nature is already showing signs of struggling to adapt. Migratory patterns are already shifting.
And changes to the Arctic will have profound consequences for the UK, for example increasing the frequency of extreme weather, flooding and denigration of our shared and valued biodiversity.
The UK government has made tackling climate change a key priority. That was reflected in the Integrated Review; it will be reflected in the shake-up of the Integrated Review; it's been reflected in the International Development Strategy.
And in Glasgow the year before last, COP26 was a collective acknowledgement of the work required globally to limit global warming to 1.5 degrees.
We are delivering our pledge to provide up to £ 11,6 billion of International Climate Finance over five years, and we are working with partner countries to help them reduce emissions, protect their nature without which we don't have any prospect of tackling climate change, and helping them to adapt to the unfortunate, inevitable changes associated with climate change.
So addressing the biodiversity crisis remains a priority issue for me, but also for the wider UK government. The UK played a leading role shaping the Kunming-Montreal Global Biodiversity Framework, adopted in December. We wanted a 'Paris moment' for nature, and it is. The agreement contains an ambitious package of global goals and targets, and a central mission to halt and reverse biodiversity loss by 2030, to put the natural world on a path to recovery by the end of this decade.
We have consistently fought for better international regulations to protect the ocean, and we will continue to do so. And to support the protection of fragile marine ecosystems, we will seek to join the Central Arctic Ocean Fisheries Agreement as soon as we possibly can.
People and prosperity. Of course, fishing is extremely important to the Arctic economy, and a reminder that the region is, first and foremost, a home to nearly 4 million people. It is a region of vibrant and diverse communities, cultures, languages and traditions.
The UK government recognises the diversity of Arctic Indigenous communities, and respects their rights, their views, their interests, their culture and their traditions. We have invested £7.6 million in a multi-partner research programme to address the impact of environmental change in Inuit Nunangat – their traditional homelands in Canada, putting Indigenous communities at the heart of Arctic science.
Of course changes in the Arctic do also open up new commercial avenues. And the people of the Arctic should benefit from those opportunities.
The UK has a lot of expertise to offer, including professional maritime and financial services. We have a clear vision for a prosperous Arctic, where economic development is achieved in a way that is safe, responsible and sustainable, and that does not damage the Arctic's natural and fragile, unique environment.
Extractive industries in particular, as well as the increasing opportunity for navigation within the Arctic Ocean, must be carefully managed to protect vulnerable marine ecosystems. We're going to have to think very hard, collectively, not just in the UK but with our friends and allies around the world, about whether or not we want to see deep sea mining in the Arctic Ocean.
The UK government is committed to working with partners to ensure that effective governance, and environmental protections, are in place to regulate ships operating in Arctic waters.
We also participate in the Extractives Industries Transparency Initiative, and the Voluntary Principles on Security and Human Rights in the Extractive Industries, which apply to mines in the Arctic just as they apply to everywhere else. And we will continue to encourage all countries to adopt the highest possible standards of environmental and social governance.
Partnering and collaborating. The challenges and opportunities facing the Arctic can only be managed through effective international cooperation. The UK government, and our science and research sector, has strong relationships with Arctic partners, and we will strengthen those ties.
UK science has played a key role in building our understanding of the Arctic. In terms of published research, UK-based scientists are ranked first among non-Arctic states in the number of published articles.
And since 2012, UK researchers have received over £56 million in Arctic science funding, on top of investments in their infrastructure and other assets. The Government's Science and Innovation Network has played an important role facilitating collaborative international Arctic research, and empowering Indigenous researchers to play a full part.
The Arctic Council (*) remains the preeminent intergovernmental forum for cooperation in the Arctic. The UK has been an observer to the Council since its first meeting, and has contributed significant expertise to its work.
We fully supported last year's decision to pause the work of the Arctic Council following Russia's illegal invasion of Ukraine. And we have been grateful to continue contributing to Council projects, where it has been appropriate.
We look forward to engaging with the incoming Norwegian chair, and will seek further opportunities for UK experts to be a part of the Council's work.
Conclusion. So to conclude: 'Looking North' sets out the UK's approach to being a trusted and active partner on the Arctic.
We have an enduring interest in the region, and a lot to offer in terms of expertise. We have a vision of a cleaner, greener, more secure, safe and prosperous Arctic. And we will continue to collaborate with our Arctic partners to realize that vision.
Thank you so much.
(*) The Arctic Council is a high-level intergovernmental forum that addresses issues faced by the Arctic governments and the indigenous people of the Arctic. Founded September 19, 1996, Ottawa, Canada and members, Canada; Denmark; Finland; Iceland; Norway; Russia; Sweden; United States