Lula and Biden agree on the importance of democracy and the environment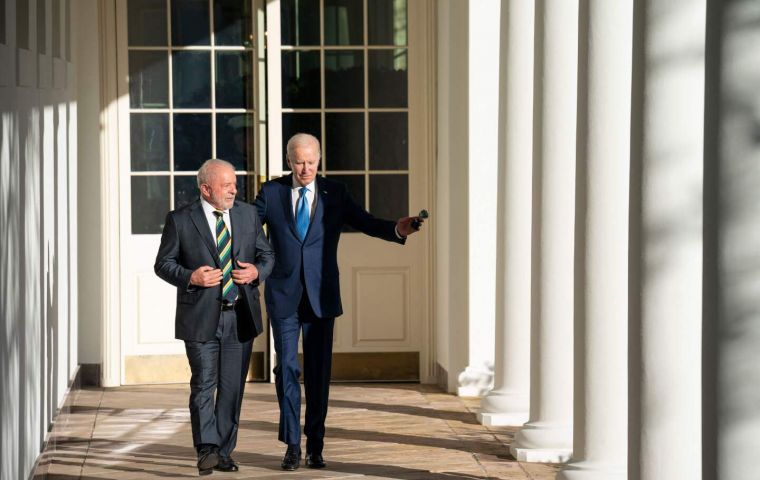 Brazilian President Luiz Inácio Lula da Silva met Friday with his US colleague Joseph Biden at the White House barely over a month after rioters stormed the South American country's capital seeking to promote a coup d'état.
Biden and Lula da Silva discussed at the Oval Office the future of democracy in the region and pledged to stand up for it. "Both our nations' strong democracies have been tested of late -- very much tested -- and our institutions are put in jeopardy," Biden said. "But both in the United States and Brazil, democracy prevailed," he went on. "We're the two largest democracies in the hemisphere. Brazil, [and] the United States stand together, we reject political violence, and we put great value in our democratic institutions," he added.
Regarding his predecessor Jair Bolsonaro (2019-2022), Lula stressed that "the former president didn't enjoy keeping international relations with any country," Lula said. "His world started and ended with fake news -- in the morning, afternoon, and at night. It seems that he despised international relations."
Lula and Biden also reviewed environmental issues. "And I took a pledge that, until 2030, we will reach zero deforestation in the rainforest, in the Amazon," Lula said. "We will take all the endeavors to transform the Amazon, not a shrine for humanity but a center for research, shared with all the rest of the world so that we can benefit from the wealth and biodiversity that exists in the Amazon."
However, coincidences vanished into thin air when the war in Ukraine came onto the table. While Biden believes in assisting Kyiv, Brazil and other emerging countries such as India, South Africa, Argentina, Colombia, or Mexico are reluctant to send arms. Lula says he is "concerned about this war" but does not want to participate in it even indirectly, and proposes "to create a group of countries to sit at the table with Ukraine and Russia to try to reach peace".
Lula has discussed the issue with French President Emmanuel Macron and German Chancellor Olaf Scholz and, in addition to Biden, he is also likely to analyze it in March with Chinese leader Xi Jinping, whom he plans to visit.
The Brazilian leader also met with several Democratic congressmen, such as Senator Bernie Sanders, with whom he talked about democracy, the union movement, and better rights and jobs for workers. He also met with the AFL-CIO, the main trade union confederation in the United States, which granted him a human rights award during his time in jail.
The United States is Brazil's second-largest trading partner, with an exchange that last year reached US$ 88.7 billion.