Uruguayan Air Force to handle UFO sightings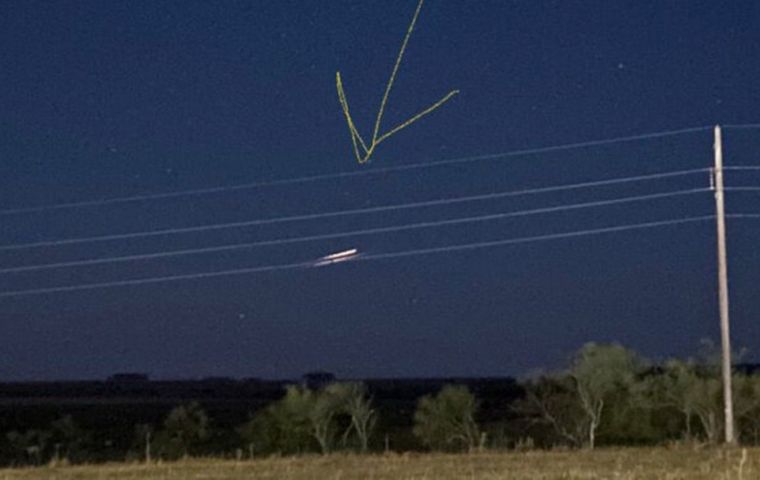 Uruguay's Air Force (FAU) is to investigate the sighting of strange red lights in the sky in Terma del Almirón, in the department (province) of Paysandú, the Receiving and Investigating Committee of Denunciations of Unidentified Flying Objects (Comisión Receptora e Investigadora de Denuncias de Objetos Voladores No Identificados - Cridovni) said in a statement on social media.
A team of experts was deployed in the area to collect information and witness statements. According to Montevideo's El País, the lights were seen early Saturday by some 20 people, including Terma de Almirón Tourism Director José Manuel Galván, during the Almirón Hot Springs Festival.
Numerous videos were recorded and shared on social networks showing red lights at a low altitude in the sky of Paysandú. Similar sightings were also reported in the neighboring Argentine province of Entre Ríos as well as in the Uruguayan towns of Colonia and San José. The episode was also visible in cities such as Herrera and San Justo according to the site La Pirámide, which cites "Chano Barragán CATVCA" as its source.
"Given the reports received about the sighting of flashing lights in the sky in the Almirón hot springs, [in the] department of Paysandú, the intervention of the CRIDOVNI has been arranged," said the Air Force on Saturday afternoon.
"We are aware of the situation and we have asked Cridovni, who is in charge of these activities, to coordinate actions to travel to the area of Paysandú in order to open an investigation to try to determine the characteristics of the event," FAU's Director of Public Relations Colonel Marcelo Lorenze was quoted by Paysandú's El Telégrafo as saying.
Captain (Nav) Carlos García, National Defense chief of the Paysandu airport, said that he saw four objects of which the local air traffic control has no record in the Tydeo Larre Borges area.