Paraguay opens embassy in Abu Dhabi (UAE)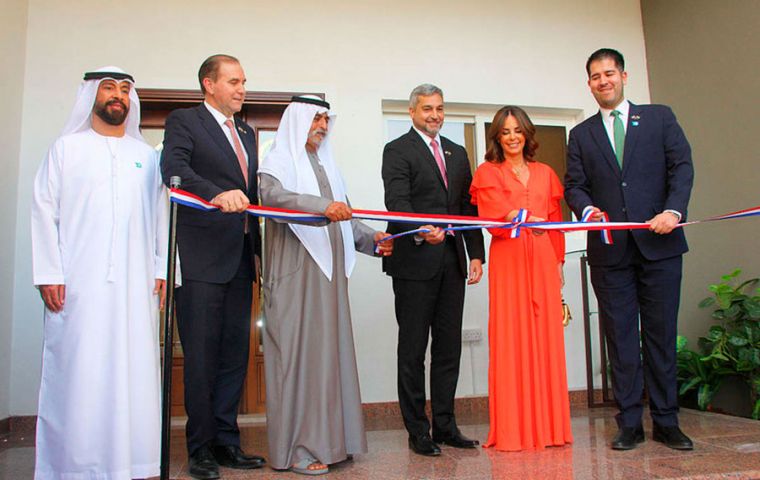 President Mario Abdo Benítez and Foreign Minister Julio César Arriola Monday took part in the opening of Asunción's new embassy in Abu Dabi, in the United Arab Emirates.
In his speech, Arriola highlighted this "historic moment" that reflects the excellent diplomatic relations between the two countries and ratified Paraguay's commitment to working for the consolidation of bilateral ties and the determination to explore new markets and strengthen the South American nation's presence in the Middle East.
While in the UAE, Abdo was due to participate in the World Governance Summit 2023, an annual forum that takes place in Dubai and brings together heads of state and government, senior representatives of international organizations, prominent intellectuals, and private sector leaders for a global dialogue on government policies about innovation and technology.
Among other dignitaries, the Director General of the World Trade Organization (WTO), and representatives of the International Monetary Fund (IMF) and the World Economic Forum were to participate in this activity.
From the United Arab Emirates, President Abdo plans to travel to Taiwan between Feb. 15 to 18 to meet with Taiwanese President Tsai Ing-wen to discuss matters on the bilateral agenda.
Paraguay and Taiwan will be celebrating 66 years of uninterrupted diplomatic relations next July.
Abdo will also participate in the Forum on Women's Empowerment and in an Investment Conference, where he will speak about the strengths and business opportunities that Paraguay offers to entrepreneurs.