Brazil planning beef exports of three million tons by 2030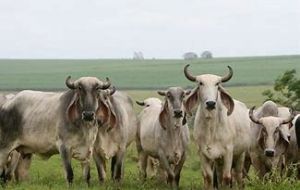 Brazil ended 2022 as the largest exporter of beef in the world, according to the Brazilian Association of Meat Exporters (Abisec). In effect, Abisec data showed Brazilian beef exports rose 40,8% rose between January and December 2022 compared to the same period in 2021
The accumulated volume shipped for the year reached 2.3 million tons, 22.6% higher than the volume registered in 2021: 1.8 million tons. The projection is that exports will exceed the mark of three million tons between 2025 and 2030.
According to Abiec data, in the first half of 2022 alone, Brazil sold beef to 132 other countries. The data shows that Brazilian meat has been occupying a prominent space in international trade.
Specialized institutions point to the quality of Brazilian beef and the positioning of the country as an important commercial partner of other nations and not as a competitor, as the main reasons for this accomplishment.
According to an evaluation by the Brazilian Agricultural Research Corporation (Embrapa), Brazil's prominence in terms of exports is the result of decades of investment in technology, which made it possible to raise not only productivity, but also the quality of the product, becoming highly competitive.
The public research company linked to the Ministry of Agriculture, Livestock and Supply also highlights the fact that beef exports represent 3% of Brazilian exports and a turnover of more than R$ 6 billion. The amount represents 6% of GDP, or 30% of the Agribusiness GDP, with an annual turnover of more than R$ 400 billion.
According to Abiec the main destinations for Brazilian meat exports has China in first place, with purchases of 1.2 million tons, totaling US$ 7.9 billion in revenues in 2022.
Egypt, with 96.6 thousand tons in imports; European Union with 85.4 thousand tons; Philippines with 61.4 thousand tons and United Arab Emirates with 58.5 thousand tons.
Mato Grosso, São Paulo and Goiás appear at the top ranking states responsible for beef exports, according to Abiec data. Minas Gerais and Mato Grosso do Sul were ranked fourth and fifth respectively.
According to a report by Abiec, Brazilian beef exports had already reached a record in 2021. Brazilian shipments reached US$ 9.2 billion that year, an increase of 8.4% compared to 2020.
The values ​​negotiated considering only fresh meat, which corresponds to 80% of the volume exported in 2021, also set a record. It was US$ 5,170 per ton, up 18.2% compared to 2020.
In that same period, the turnover of beef cattle agribusiness was R$ 913.14 billion. All businesses and movements related to the production chain – including values ​​of inputs used in livestock, investments in genetics, animal health, nutrition, exports and sales in the domestic market – are included in this volume.
With a most conservative scenario, Abiec projections show that Brazilian beef exports should exceed the three million tons mark between 2025 and 2030.
In this scenario, meat production will need to increase by 35% by 2030 to ensure supply to the domestic and foreign markets. For the increase to be possible, an increase of 45% in the average productivity of Brazilian livestock will be necessary underlines the report.