US: Nikki Haley joins Republican Party presidential race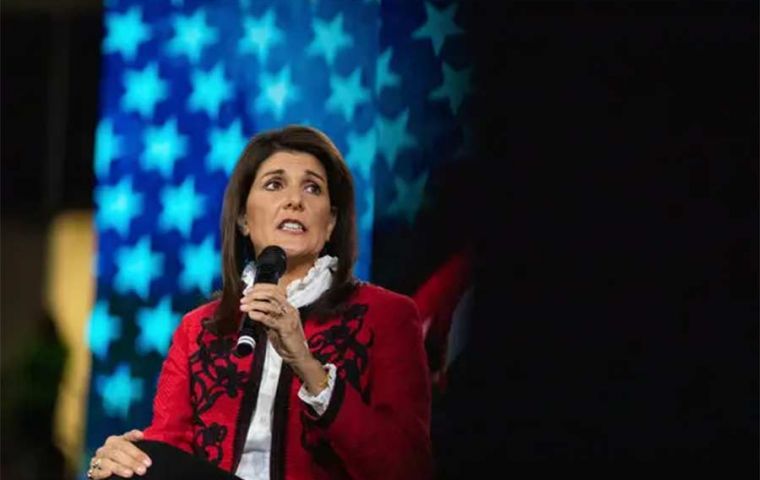 Former South Carolina Governor and US ambassador to the UN Nikki Haley Tuesday announced she will be running in the Republican Party's primaries for the Presidency of the United States in 2024.
Haley, 51, is expected to face her former boss Donald Trump, and Florida Governor Ron DeSantis, in addition to other likely contenders such as former Vice President Mike Pence, and former Secretary of State Mike Pompeo among others.
Despite previous remarks that she would "not run if President Trump ran," Haley announced her candidacy in a video on Tuesday morning. "She said she would never run against me because I was the greatest president, but people change their opinions, and they change what's in their hearts," Trump said. "So I said, if your heart wants to do it, you have to go do it."
However, Haley's entering the primaries is beneficial for Trump by drawing support away from DeSantis, according to a survey that showed the Governor of Florida leading Trump by three points, but trailing him by three if Haley runs.
Haley differs from Trump most significantly on Ukraine, having demanded fighter jets be supplied to Kyiv, while Trump insists President Joseph Biden has brought the world "to the brink of World War III."
Trump and DeSantis – who has not announced his candidacy yet– are overwhelmingly favored by Republican voters. Recent polls show the two within single digits of each other.
Haley, 51, changed her mind about running citing the need for "generational change" with Biden already 80 years old and Trump in his late 70s. Biden has said he intends to seek reelection in 2024.
"You should know this about me. I don't put up with bullies. And when you kick back, it hurts them more if you're wearing heels... I'm Nikki Haley, and I'm running for president," she said in a video posted on social media. "I've never lost an election, and I'm not going to start now," she added.
If elected, Haley would be the first female president and the first U.S. president of Indian descent. The daughter of Indian immigrants, Haley grew up enduring racist taunts in a small South Carolina town because she was neither black nor white, but "different." With her 2010 victory, Haley became South Carolina's first female and minority governor — and the nation's youngest at 38. Haley served as Trump's ambassador to the United Nations from 2017 to 2019 and was governor of South Carolina from 2011 to 2017.