Winners of the Falklands40 Schools Competition begin their adventure in the Islands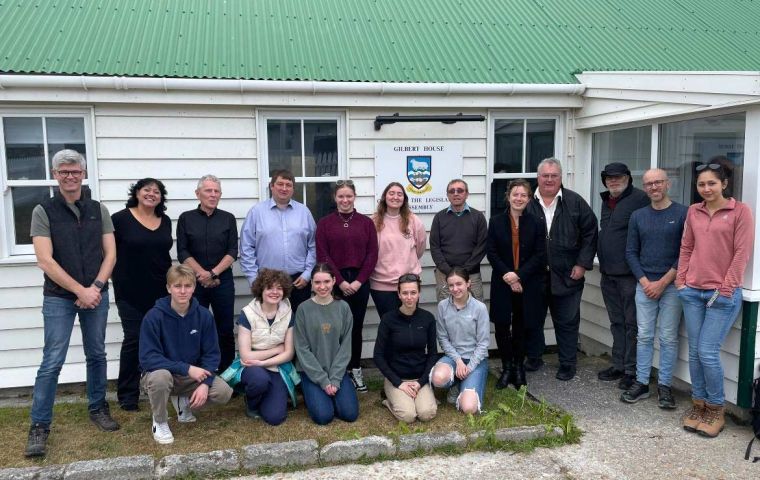 On Tuesday afternoon Members of Falkland Islands Legislative Assembly met with the Falklands40 UK Student competition winners, who arrived in the Islands on Monday. MLAs thanked the group for their interest in wanting to visit the Islands, and for sharing their insight on the modern Falklands.
"As you begin your week in the Falklands we hope you have a wonderful time, and your visit turns out into a real adventure", said the hosts at Gilbert House.
Students also had time before the formal meeting with local elected officials from the Falklands autonomous government, to visit beaches and dunes, some of them recently demined, close to the capital Stanley and photograph penguins, an emblem of the Islands.
The Falklands Forty Schools competition was created to mark the 40th anniversary of the liberation of the Falkland Islands, The Falklands Government invited all UK students born between 10 Feb 2005 and 2007 to take part in a competition and win an amazing opportunity to visit the Falklands.
The Falklands Forty Schools Competition was an opportunity for 16 – 18 year-olds to win a once in a lifetime visit to the Falkland Islands The competition was a key part of the Falkland Islands Government program commemorating the 40th anniversary of the liberation of the Falkland Islands. The project is a collaboration between the Falkland Islands Government and academics from the University of Exeter, University of Newcastle and the Royal Holloway University.
This competition offered eight places to students in the UK aged between 16 and 18 (in February 2023) to win the trip to the Falkland Islands. They will be accompanied by the academics and will have an amazing opportunity to explore the Islands and meet Islanders, and some of our 1,000,000 penguins and 450,000 sheep!